In search of the best airport shuttle service after a long flight? We have got two in one service for you. We not only await your arrival from the airport but drop you off at your desired ski destination as well. Fresh Tracks Transportation provide convenient and affordable shuttle service between the Denver International Airport and Colorado ski areas.
We offer shuttle services to Denver, Keystone, Breckenridge, Frisco, Dillon, and Silverthorne, Colorado. Copper Mountain to Denver shuttle service which takes about 1 hour and 45 minutes. Shuttles from Frisco to Denver take about 1 hour and 30 minutes.
It takes about 1 hour and 30 minutes to get from Keystone to the Denver Airport. Shuttles take roughly 1 hour and 45 minutes between DIA and Breckenridge. Shuttles from Denver to Silverthorne take about 1 hour and 30 minutes.
Whereas Shuttles from the Denver airport to Dillon take around 1 hour and 30 minutes. As you can see, the Denver International Airport is only around the corner, no matter where you are going in Summit County.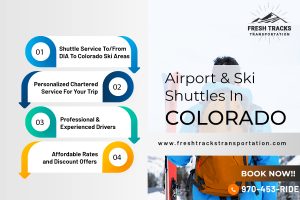 Features Of Fresh Tracks Shuttle Service
Why Choose fresh Tracks Transportation?
Why choose us? With our services offered, getting airport shuttles to these ski resorts has never been easier. We are readily available, 365 days a year, seven days a week, and twenty-four hours a day. We provide shuttle services multiple times daily (with shuttles leaving every 30 minutes) throughout the winter season.
So, no matter when you have to arrive or depart at the Denver International Airport, we will always have a shuttle that meets your needs. One of the best things about visiting this area for a ski trip is that there are six world-class ski resorts within an hour of each other, and the Denver International Airport is nearby. Book now!
Personalized Chartered Service for Your Trip
Not only this, but we also provide chartered shuttle services to these areas. So, whether you are a group of 10 or more, let us know, and we will have an ideal shuttle waiting for you for your personalized service! What else?
We offer free bag rides (for up to two bags). Throughout the journey, we protect all passengers and personal belongings with commercial insurance.
Complimentary stops along the way for groceries, ski rentals, local shops, and other necessities are one of the many advantages of our chartered shuttle service. It's a brilliant way to save time and avoid the hassle of attempting to get transport for these errands after you have checked into your hotel. We also provide shared-ride shuttles, which transport numerous people to the same destination in the same car.
Enjoy an unforgettable winter adventure at the best ski resorts and destinations with Fresh tracks Ski Shuttle service.
Professional & Experienced Drivers
Our professional and experienced drivers ensure all safety measures driving in that snow. Along with that, we strictly follow Covid SOPs. We disinfect our buses between the trips and keep in mind all the essentials you need for a smooth journey.
All of our drivers are Colorado residents and are familiar with the local attractions. Not only can our drivers provide direct transportation, but they can also provide advice on fascinating places to visit. As a result, you won't need a separate guide to find all of Colorado's best attractions.
With over eight years of experience, we are still Denver's first and best airport transportation and ski shuttle service. We assure you the best, most comfortable, affordable, and secure trips. Guests who book with us can look forward to the best service in Summit County.
So, what are you waiting for? Book with us to start your ski trip off right!