In search of one of the best places to defrost in winter? Crack that ice and have some fun. Colorado offers the best winter recreational activities in all of the country. It not only has to offer amazing weather conditions with equally sunny days, but its scenic routes will put you in awe. There is no best place to visit this fall than Colorado!
Grab your laptop and get cracking!
Best options to enjoy winter vacations in Colorado are awaiting you!
Book with us right now at Fresh tracks Transportation website and let us warm up your trip.
Ski bunnies, where you at?
Are you still confused about what to look forward to for this trip? Let us give you reasons why this place won't fail you. Why hibernate when you can gear up again? Colorado is the home to America's best skiing. It is known as a skier's paradise. With 28 ski and snowboard resorts, there is no better place to be.
All you have to do now is choose between these resorts, with all the facilities and thousands of skiable acres. The hidden gems with fantastic snow, wide slopes, and reasonable lift lines are all yours to discover. Just let Fresh Tracks know, and we will provide you with the best transportation services from DIA to Summit County and vice versa.
Not a ski fan?
It's okay! You don't have to speed down a mountain when you can speed up with the Coloradans. Grab your snowshoes and hike up to the Back Country trails. Hear the sounds of chattering birds as you walk through snow-covered valleys and tranquil stands of evergreen and aspen trees.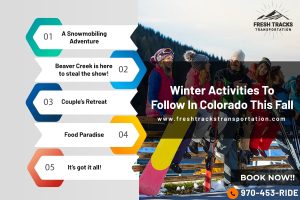 Colorado Winter Activities
A snowmobiling adventure is another Colorado vacation choice
You will see why snowmobiling is so popular on Colorado's thousands of miles of tracks when you combine the thrill of a high-speed ride with the breathtaking scenery of a snowy alpine environment. Get out of your comfort zone by exploring ski resorts in the southwest. Telluride's Plunge and Spiral Stairs slopes provide spectacular vertical drops, while Silverton Mountain limits its steep terrain to experienced and expert-only riders.
Beaver Creek is here to steal the show!
Vilar Performing Arts Center, located in the heart of Beaver Creek, is a world-class theatre. This spectacular mountain amphitheater hosts everything from Broadway musicals to stand-up comedy to rock concerts. Not really a sports fan? Sit back and relax because Vilar has something for everyone, so keep an eye on the schedule for year-round performances, especially this winter!
You can enjoy your favorite food, places and skiing options with Fresh Tracks DIA to Summit County Shuttle Services. Choose your favorite venue and head out straight for a remarkable experience with Fresh Tracks Shuttles.
Couple's Retreat
Colorado is the ideal destination for couples looking for a romantic getaway, with breathtaking scenery and many private activities. At Mount Princeton Hot Springs Resort in Nathrop, melt away the stresses of everyday life in the relaxation pool designed exclusively for adults. If you are looking for a more rustic romantic break, this is the place to go.
Duos can strike up a comfortable chat while sipping sophisticated drinks in small bars. Surprise your sweetheart with an out-of-the-ordinary supper atop one of the ski resorts' peaks. Alpino Vino in Telluride, located at 12,000 feet, offers a five-course Italian-themed supper that is only accessible by insulated snow coach.
Food Paradise
Colorado's hospitality is not only confined to skiers or couples. We here await your arrival at Denver's critically acclaimed restaurants by journals like Bon Appétit and Forbes (naming Boulder as a top "foodie" destination). So don't miss this opportunity to sample the scrumptious concoctions prepared by exceptional Colorado artisans.
It's got it all!
From ice fishing to snow tubing, to sleigh riding, Colorado has got everything for everyone to enjoy Winter vacations in Colorado. You name it, and it's got it. Get ready to explore the ice castles at Dillon Town Park with a hot cup of cocoa in your hand.
And on your way back, don't forget to get souvenirs for loved ones when you go back. If you have any further concerns about what to do in Colorado this fall, one trip will dispel them. Book with us now. We want to be a part of your memorable trip to this winter paradise.