The three alpine highways CO-6, CO-9, & Interstate 70 converge in Silverthorne, making it a fairly busy intersection. It boasts year-round activities, convenient adventure access, and Summit County proximity.
A great starting point for discovering the region's treasures, including its several ski resorts, wilderness areas, & lakes, is Silverthorne. Additionally, it's quite accessible for a day trip, with Denver being just over an hour's drive.
Outdoor recreation and enjoyment are quite popular in Summit County. Your home base for an intervention trip is Silverthorne, which offers hiking, biking, shopping, and dining. Find out what to do and begin making travel plans right away. You can use the shuttle from Silverthorne to Denver airport.
In Silverthorne, there is never a shortage of things to do because of the abundance of scenic natural areas around and the entertainment options offered by larger mountain resorts. You can discover enjoyable pursuits throughout the year, such as going to outlet shops, taking a stroll along Blue River, and going to a show. Here we have five exciting outdoor activities to experience in Silverthorne, Colorado.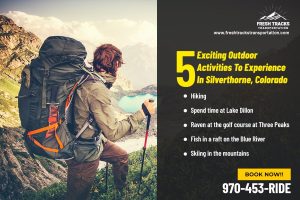 Top Outdoor activities in Silverthorne
Hiking
Tourists will not be able to enjoy trekking as evergreen forests, mountain peaks, and a stunning natural setting border the Silverthorne. Around Silverthorne, there are some of the best hiking trails, including the renowned Continental Divide Trail. There are almost 300 hiking routes crisscrossing the White River National Forest.
So, whether you're searching for a leisurely day trek that concludes with a picnic or a strenuous expedition up a mountainside, you'll find it here. It is one of the best exciting outdoor activities to experience in Silverthorne.
Although there are other hiking trails close to Silverthorne, the Blue River Trail is among the most well-known. The trail connects the communities of Silverthorne with Dillon, Keystone, Frisco, Breckenridge, and Glenwood Springs and is intended for bicyclists and hikers. 
The B&B to Reiling Dredge to Minnie Mine walk is a fantastic alternative. If you\'re looking for a trek that won't take more than an hour or two and want to see some beautiful scenery as well as some former mining regions, this two-mile loop is a fantastic choice. You might even come across a bear as you pass through the abandoned mining camps along the road!
Spend time at Lake Dillon
The 27-mile-long Dillon Reservoir, often known as Lake Dillon, is indeed a sizable body of water close to the city. The dam borders the periphery of the city. One of the main attractions of the reservoir is boating, and two distinct marinas offer boat rentals. Fresh Tracks airport shuttle is used for traveling.
In the summer, the Dillon Marina comes alive with various water sports and a sandy beach for lounging. Rent sailboats and pontoon boats. For further rentals, boat cruises, and guided fishing, go to Frisco Bay Marina. There are yoga sessions on stand-up paddleboards and sailing lessons for those who wish to be sailboat captains. We place this at second number in our list of exciting outdoor activities to experience in Silverthorne.
Visit the Lakeside Tiki Bar, which has a view of Lake Dillon, if you are hungry or need a pick-me-up in the afternoon. You can enjoy a lovely view of the marina from its roomy deck because they have a delectable meal that is perfect for a beach afternoon. The best foods include hot dogs, hamburgers, & chicken fingers, and there are plenty of craft beers and great cocktails to help you feel like summer.
In the crystal-clear water, fishermen will find a wide variety of animals swimming around. If you're 18 or older, you must have a fishing license, which is simple to acquire online or in many places throughout Summit County. You may therefore pull in rainbow trout, salmon char, and catfish, whether you're fishing from a boat or even the shore, and show off your catch by taking some selfies.
Raven at the golf course at Three Peaks
The Raven Golf Course is the top-rated course in Colorado and is surrounded by large aspen and pine trees, beautiful creeks, and lakes. The incredible sights of Buffalo Mountain or the surroundings are one benefit of living above 9,000 feet.
Even with the numerous elevation changes and also some difficult holes, beginners can still enjoy the afternoon. The team on-site provides lessons to sharpen your skills, so there is a Marshal who makes sure everything moves quickly and smoothly. We place this in the third number in our list of exciting outdoor activities to experience in Silverthorne.
Additionally, there are creeks and a lake with trout nearby. They run regional and worldwide events at specific times of the year. The Raven Golf Club offers a Pro Shop where you might get new golf clubs or other relevant goods for your golfing needs. In the meantime, amateur golfers who wish to improve their game can sign up for a private lesson. Fresh Tracks airport shuttles can be used for transportation.
The restaurant at the Raven Golf Course has a complete bar and an outside patio with breathtaking views. On the weekends, they feature local live music and offer a big selection of American food.
If you are visiting Silverthorne in Spring, then read about best spring activities to enjoy in Silverthorne here.
Fish in a raft on the Blue River
It should be unsurprising that Silverthorne has excellent access to rafting & fishing since the Blue River directly runs through the town. A significant portion of a river can be visited via the town's almost three-mile riverside route. Off the concrete track, there are a lot of decent fishing sites, but a walkway is also a nice area to walk. We place this at the fourth number in our list of exciting outdoor activities to experience in Silverthorne.
Consider taking a guided rafting excursion along the Blue River if you're a tourist looking for a little extra adventure. The Blue River is ideal for beginners because it has Class II and III rapids, yet trips often last less than an hour. Book your ride with Fresh Tracks Transportation's Silverthorne Airport Shuttles to get there with ease and safety.
Wetsuits, helmets, & life jackets are provided with reservations, but wear quick-drying clothing and put on sunscreen before leaving.
Skiing in the mountains
On the front and back nine of the Raven Golf Course, the Silverthorne Nordic Center offers cross-country skiing and snowshoeing excursions. You must bring your equipment; however, the adjacent Frisco Nordic Center offers rentals.
South Willow Creek Falls along the Mesa-Cortina Trail is another well-liked location for cross-country skiing. This 9.5-mile out-and-back track, which is near Silverthorne, has a stunning waterfall. Travel through aspen forests as you enter the Eagles Nest Wilderness before crossing an open meadow. This is one of the exciting outdoor activities to experience in Silverthorne.
You will be able to capture many picture-perfect moments thanks to the breathtaking vistas of the Williams Fork Range & Dillon Reservoir. Fresh Tracks airport shuttles offer the most affordable and convenient commute to roam around. Before reaching South Willow Falls, you must ascend a valley in Buffalo Mountain & Red Peak.
Last thoughts
Despite its tiny size, Silverthorne offers fascinating recreational opportunities that can keep visitors busy and amused. It is ideal for families and groups of friends who just want to relax and have fun. All these activities were outdoor activities to experience in Silverthorne.
You will be surrounded by gorgeous aspen and pine trees, spectacular mountains, and a fantastic landscape when you explore the beautiful town of Silverthorne. Try using Fresh Tracks transportation to explore the area's natural splendor.