Colorado, often known as the Centennial State, is home to a staggering range of natural wonders. This state is dripping with nature immersion opportunities, from high and majestic Mountains to shallow valleys & ridges and the woods and lakes in between.
But because every intrepid traveler knows that a map is their best friend, use our list of the top fun things to do in Colorado to plot your course and have the trip of a lifetime.
If you're organizing a trip to Colorado, you might find it challenging to decide what to do there. There are many more exciting and fun things to do in Colorado than you may already know. Most people often think about skiing and perhaps hanging out in Denver.
Whether you check out some of the state's top museums or unwind at the country's largest water park, there are fun things to do in Colorado Mountains have to offer.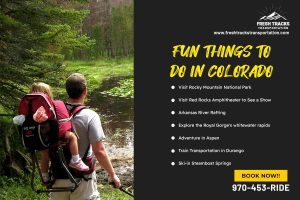 Top Activities in Colorado
Visit Rocky Mountain National Park and go hiking in Colorado
Even if you're not a big hiker, Rocky Mountain National Park is one of the most stunning places to visit in Colorado and is the ideal location for hiking in Colorado.
On the east side of the park, you'll find short, flat routes like the Coyote Valley Trail if you're looking for something simple to do simpler and want to avoid the altitude. Kids love it because it is paved. Another simple stroll is the Sprague Lake Trail.
But after that, the RMNP has hiking paths for every skill level, including one that ascends Longs Peak, one of the best 14ers in Colorado.
Visit Red Rocks Amphitheatre to See a Show
Many musicians have cited Red Rocks Amphitheatre as their preferred location to perform because it is a stunning outdoor venue that isn't overly large. One of the fun things to do in Colorado is, without a doubt taking in a show here.
However, even if you visit during the off-season and miss the musical events, you may still see the amphitheater without paying a penny. There is a beautiful hiking path in Colorado and a museum where you can learn much more about the park's history.
Vail
Visit this year-round activity-filled mountain community in Colorado. When people think about fun things to do in Colorado, they frequently consider skiing, and Vail has a ton of top-notch slopes for that. A ski or snowboard might find everything they need in Vail Resort, including fantastic runs, lifts, or gondolas, as well as amazing restaurants and shops nearby.
However, this alpine town is not only a ski resort! Vail is a terrific spot if you're seeking entertaining things to see in Colorado during the summer. These same slopes are suitable for mountain biking and hiking in Colorado, or you may visit the Beatrix Ford Alps Garden to unwind and take in the mountain flowers.
Arkansas River Rafting
Explore the Royal Gorge's whitewater rapids. Many people choose rafting when they visit Colorado, in addition to skiing! This half-day excursion takes you through the Arkansas River's rapids, starting now at the source and traveling to the Royal Gorge's lower reaches for stunning views of the gorge rather than its upper reaches.
This Arkansas River excursion is excellent for novices and will give you a unique perspective of Colorado.
Garden of the Gods
Garden of the Gods is a well-known resort in Colorado Springs with accessible walking routes leading you through red rock formations around the park. Hike & climb through this landmark park. Find the Sleeping Dragon and the Kissing Camels.
Booking a private bouldering instruction is the only way to access the park's rocks if you want to accomplish too during your trip!
Adventure in Aspen
Exploring this opulent alpine town is one of the best fun things to do in Colorado.
The landscape and memories you'll take away from year-round sightseeing in Aspen, Colorado, will last a lifetime among all the other things to do there.
Take a quick drive to the Maroon Bells Scenic Area while you're in Aspen for some of the best views of these peaks. There are numerous places for hiking in Colorado so you may choose the right one for your group's skill level.
Aspen offers some excellent skiing and snowboarding options during the winter. At the same time, throughout the summer, you can go hiking, mountain biking, fishing, and engaging in a variety of other outdoor sports. You can find award-winning restaurants whenever you visit.
Train Transportation in Durango
Take a ride on a National Historic Landmark through the San Juan Mountains.
You can only experience the Durango or Silverton Narrow Gauge train in Colorado! Since 1882, the well-known Colorado train has indeed been running continuously. You will travel for three and a half hours to the mining town of Silverton, where you can eat, shop, and spend a few hours enjoying all the town has to offer before making the trek home.
You will travel over Horseshoe Curve, and the High Bridge as the journey follows the Animas River. It can offer you fantastic images but may make you tense!
Telluride
In Telluride, Colorado, where there are so many amazing things to do, you can try mountain bike & ice climbing.
Telluride offers odd winter sports, including fat tire snow biking, Nordic skiing, sledding, & ice climbing, in addition to the obvious skiing and snowboarding. You may enjoy hiking, mountain biking, fly fishing, horseback riding, and kayaking each if you travel in the summer.
Visit the town mountain gondola while you're there for free rides over Coonskin Ridge and views of the San Juan Mountains during the appropriate seasons. It's one of the state's most distinctive activities!
Breckenridge
Breckenridge is a great ski town where you can enjoy breweries, outdoor activities, and ski-in ski-out accommodations with several hotel alternatives. Skiing is available for all skill levels, and there are excellent alternatives for private lessons. You can stay directly by the slopes. If you don't ski, you can still enjoy snow sculptures, dog sledding, cross-country skiing, and sledding. There are fun things to do in Colorado.
You can go hiking, mountain biking, fishing, or check out one of the craft brewers or distilleries that produce delectable Breckenridge libations during the summer. There are many of Colorado's top attractions in Breckenridge. To start planning, look at our article on things to do in Breckenridge.
Thinking about heading to hub of tourist attraction Breckenridge then don't miss out to check these wonderful hiking trails in Breckenridge.
Ski-in Steamboat Springs
Glide across champagne powder while taking in the surrounding surroundings.
Steamboat Springs has a tone of entertaining things to do all year long! In the winter, you can go ice fishing, ski, snowboard, and try dog sledding. There are many opportunities for hiking in Colorado, mountain biking, paddle boarding, & fishing at Steamboat Lake in the summer.
Try Steamboat Springs' Brew Trail, which leads you through the city while you sample local beer & distillery samples, for an excursion you can only have in Colorado.
Conclusion
Don't miss out to check the hiking trails of Colorado that really ad up to it's splendor. You will find of options to hike and ski in locations such as Breckenridge, Keystone, Silverthorne, Dillon, Copper Mountain, Vail, Frisco and many more. Fresh Tracks Transportation provides Airport shuttles and Charter Shuttle services to these wonderful locations in Colorado. So, if you've been considering a road trip, the time is now.
Don\'t worry if you wanna head straight to these wonderful locations from DIA. You can book our DIA to Breckenridge shuttles, DIA to Keystone Shuttles, Frisco and Dillon airport shuttles. Whether you want us to pick you up in Denver airport shuttles or take you on a leisurely stroll through the city before the trek. Just inform us in advance so that we can prepare our Breckenridge airport shuttles for the journey.