Look no further if you're seeking a reason to visit the mountains this summer. You won't want to miss any of the concerts and best festivals in Summit County. Whether you are a foodie, a music fan, or a beer connoisseur, Summit County has something for you this winter.
Every town in Summit County hosts incredible events for its community. Breckenridge hosts a variety of festivals, shows, and events that are unlike any other. Frisco has several popular local events, whereas Keystone organizes many well-known festivals and entertaining performances. Silverthorne, Dillon, and Copper Mountain are other burgeoning event destinations.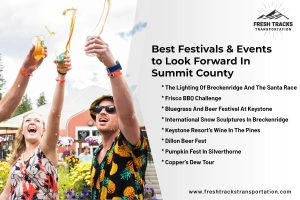 Festivals to attend in Colorado
The lighting of Breckenridge and the Santa Race
With the return of Lighting of Breckenridge and Race of the Santas, Breckenridge ups the ante on small-town holiday charm. The first weekend in December ushers in a joyful holiday scene on Breckenridge's streets.
Hundreds of Santa impersonators will compete in a sprint down Main Street to kick off the holiday season. After the race, stay to see the town transform into a real-life holiday card with over 13,000 feet and 250,000 LED twinkle lights. The famous Christmas lights in downtown Breckenridge are amongst the most pictured sites throughout the winter weather, and they continue to dazzle and bring brightness throughout the winter.
Frisco BBQ Challenge | Best Festivals in Summit County
The Frisco BBQ Challenge is one of the famous summer events.
This event not only brings some of the best BBQ in the country to Frisco's main street, but it is also a must-attend annual event!
There will be bands, a Bacon Burner 6k, a firefighter cook-off, and pig rides for the kids, among other activities. This year marks the 27th anniversary of the BBQ Challenge, which takes place every year on Father's Day in June.
Get ready to enjoy all these events and festivals in Colorado with hassle-free and affordable Fresh Tracks Airport Shuttle Service.
Bluegrass and Beer Festival at Keystone
This festival brings together everything we love about Colorado in August in Keystone, Colorado. This year marks the 24th anniversary of the Bluegrass and Beer Festival, which takes place over two days in Summit County. This weekend event features exciting bluegrass music from up-and-coming bands as well as well-known favorites, as well as craft beer from some of the country's top breweries. What's not to like about beer tasting, sunshine, and dancing?
International Snow Sculptures in Breckenridge
The International Snow Sculptures arrive in Breckenridge in January, and they will be celebrating their 31st anniversary in 2021!
The snow sculpture championships bring together 16 teams from around the world to carve snow sculptures by hand. The original 20-ton snow blocks are converted into incredible pieces of art over 5 days. This is a fantastic event to attend at night because the sculptures are lit up beautifully!
Keystone Resort's Wine in the Pines 
Wine in the Pines, held each October in Keystone, Colorado, is another annual Summit County event with a 37-year history. A winemaker's dinner at the Keystone Ranch, delectable international food tastings, a silent auction, and a night to remember are all included in this event.
Dillon Beer Fest | Summit County Festivals
Dillon hosts its Beer Fest for the tenth year in a row at the base of Lake Dillon. This event features breathtaking views of the 10 Mile Range, and a percentage of the revenues will benefit the Colorado Brewers Guild, a non-profit that supports all of the Colorado brewers we know and love. Summer on the lake with world-class beer? Well, yes!
Here is some more information on top events in Summit County, Colorado to help you get an unforgettable experience.
Copper's Dew Tour
The Dew Tour is the last but not least! Dew Tour was held at Copper Mountain for the first time in 2020. This annual event used to be held in Breckenridge, but we'll have to wait and see what happens next! Dew Tour provides four days of snowboard contests, concerts, freebies, and opportunities to meet incredible athletes, regardless of location. This is a winter event you don't want to miss!
Summit County events have a big impact on the community because they bring people from all over the country together to celebrate and enjoy the mountains. Fresh Tracks Transportation aids in making these events memorable and affordable by providing the best shuttle services.
Fresh Tracks Shuttles provides transportation to and from DIA to Breckenridge, Keystone, Copper Mountain, Frisco, Dillon, and Silverthorne. It also offers ski shuttles in Colorado serving A-Basin, Beaver Creek, and Vail as well. So, book your Denver Airport Shuttles and hop on one of our Breckenridge shuttles to make sure you don't miss out on any of the fun!
Pumpkin Fest in Silverthorne
The Town of Silverthorne's Pumpkin fest is another autumn-themed annual event. This is a family-friendly autumn extravaganza. Trampolines, games, face art, and the largest pumpkin farm in the Rockies are all to be enjoyed.