Colorado is a Swiss army knife of winter activities and experiencing them all is the key to unlocking it. The breathtaking Rocky Mountains' distinctive peaks, the sheer diversity, volume, and breadth of resorts, and abundant annual snowfall make this state one of the most desirable winter playgrounds. The epidemic has rekindled our love for the great outdoors, and what better way to enjoy it this winter than at one of these Colorado ski resorts?
Are you hoping to travel to Colorado for the holidays? There are some of the top ski slopes in the vicinity, as well as other adventures and activities. Getting from Denver International Airport to your ski town, on the other hand, can be difficult. You will be exhausted after being on the plane.
You want nothing more than to arrive at your final destination, especially when traveling with children. Renting a car at the airport and driving yourself to your resort or taking public transportation would be far from convenient.
As a result, to get to your ski town, you should hire a private shuttle service! It will pick you up from Denver International Airport at any moment and take you to the towns of Colorado. Simply lay back and unwind on the way to the ski resort. You've been on a plane for several hours and deserve to unwind!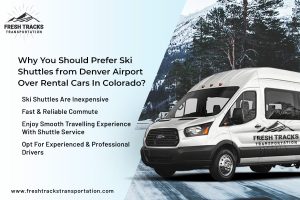 Ski Shuttle service
Ski Shuttles Are Inexpensive
While renting a car may appear to be a cost-effective alternative, it may end up costing much more than hiring a professional driver, and that's assuming everything goes smoothly. Here are some compelling arguments for doing so:
Snow tires will not be included in your DIA rental car. Snow tires are not available from any of the main rental car companies, and you will almost certainly have to drive through the snow at some point during your trip. If you make it out of your condo's driveway, driving in the snow without winter tires is dangerous. Chains are almost always prohibited in rental agreements, so good luck!
SUV rentals are prohibitively pricey. Sure, you clicked on the teaser rate, only to discover it was for an ultra-compact vehicle that barely fits you, let alone your stuff. SUVs can be rented for hundreds of dollars per day, not to mention the expensive cost of driving them around. You'll also have to pay to park your rig at your resort, which will quickly add up.
Fast & Reliable Commute
Shuttles and lines are two types of transportation. When you get to Denver, you usually want to get out as soon as possible. If you rented a car, don't bother with it. All of the rental vehicle firms at DIA are located miles away from the terminal and getting to their offices requires a ride on a crowded public vehicle.
Then there's the line at the rental desk, which can reach out the doors of the buildings and last for hours. When you arrive, hopefully, the vehicle you reserved is still available! When you book a private shuttle with Fresh Tracks Transportation, you'll be on your way as soon as your luggage arrives.
Once you arrive, you won't need a car. The mountain resorts are all pedestrian-friendly and provide complimentary transit throughout town. All your rental car will do is rack up parking tickets or become a snow masterpiece. Are you worried about going grocery shopping? Try grocery delivery and arrive to discover your condo's fridge completely stocked or get on a shuttle and take advantage of the stops Fresh Track shuttles offer. You're on vacation, after all, and you shouldn't have to drive!
Enjoy Smooth Travelling Experience with Shuttle Service
Renting a car can be a terrific experience, but it can also be fraught with problems. Navigating a new location can be challenging, and your GPS may not always be exact or totally accurate. Because it is one of the few routes that runs wholly across the state, from the Denver area to the mountains, traffic is a major issue.
You will be responsible for paying for gas in addition to the rental charge. Finally, if you are involved in an accident, there is no one else to blame but yourself.
Get ready to embark on an unforgettable travel experience with Fresh Tracks Transportation.
Opt For Experienced & Professional Drivers
It's possible that you'll miss your return flight. In the mountains, snowstorms, traffic, chain laws, road closures, and accidents are all common. Count on our team of pros to deliver you to the airport in a safe and timely manner. All road, traffic, and weather conditions are continuously monitored by us. Take the stress out of this tense period of your journey.
What's the easiest way to avoid all of this hassle? Easy! Book a shuttle instead. Shuttles are an excellent choice for folks who do not have the capacity or want to drive. When travelling into the highlands, you will encounter steep, and at times, perilous mountain routes.
If that doesn't appeal to you, a shuttle is a great alternative. You can even strike up a conversation with a local (driver) to learn more about the area you're visiting. If you're going to the mountains to enjoy the scenery and want to avoid as much fuss as possible, a shuttle can be the best and most affordable option for you.
Make a reservation for a private shuttle or use Fresh Tracks Transportation\'s shared shuttle service. Fresh Tracks Transportation will get you from Denver International Airport to your favorite Colorado mountain resort destinations quickly and conveniently.
Shuttles will take you directly to your hotel or home, saving you money on rental car taxes, fees, and gas, plus you won't have to clean snow off your car! Avoid parking headaches and don't be concerned about road conditions or driving across the Rocky Mountains.
Fresh Tracks' drivers are trained and experienced for Colorado's conditions and will safely deliver you to your ski destination. Choose a professional and reliable Denver Airport transportation service. Ski areas and mountain towns served include Vail, Breckenridge, Keystone, Beaver Creek, Copper Mountain, A-Basin, and Silverthorne.
It's Time to Sit Back, Relax and Enjoy
So, sit back and relax, knowing that we've got everything covered. We'll keep track of your flight and be waiting for you at the airport when you arrive. We suggest a departure time to ensure that you and your family get to the airport on time.
Do you want to go to a different resort during your stay? We also provide amazing rates on the service. So book your Fresh Tracks shuttles today and get ready to experience the smoothest ride in this snowy fantasy!