Spring vacation alternatives include relaxing on the beach or visiting a National Park to view the sights. Spring skiing in Colorado is a wonderful activity to experience especially if you are looking for an outdoor vacation. Perhaps the family has already taken a few road excursions and is considering a trip to Colorado, where spring is unparalleled!
The ski resorts in Colorado are excellent choices for a spring break excursion. Everything from weather, sunshine, mountains, alfresco dining, lovely resort towns, fun, ease of getting around, and sunshine contribute to an unforgettable trip.
Colorado is undoubtedly the hub of North American ski culture, with 28 world-class resorts. And spring is, without a doubt, the ideal time of year to ski these magnificent peaks. The high elevation often brings "bluebird" conditions in March and April. It's a one-of-a-kind experience for Coloradans, complete with sunny, clear skies that make spring skiing delightful.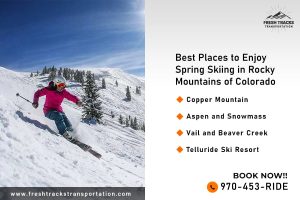 Top Locations for Spring Skiing
Copper Mountain 
Book Copper Mountain Resort for your spring break ski vacation if you're a fan of Team USA athletes. Olympic competitors, including those who just competed in Beijing, have used the resort as a training site. Copper Mountain is a great place to visit for a multitude of reasons:
It's only 81 miles from Denver.

It has a vast range of slopes for all levels.

The ski school program is excellent.
But there's one additional reason this spring: The Easter Egg Hunt at Copper Mountain is the largest in America, both in terms of area and number of eggs.
Copper Mountain, located 75 miles west of Denver, is ideal for families. The resort's naturally separated terrain begins with beginner routes and a ski school on the resort's West Village side, progressing eastward to expert terrain. Ski the lifts from the Center Village, where the halfpipe is also located, for a good mix.
Copper Mountain is a wonderful option to enjoy spring skiing in Colorado. If you don't want to ski, Copper Mountain Resort offers a variety of other winter outdoor activities.
Aspen and Snowmass | Spring Skiing in Colorado
The mountains of Aspen and Snowmass are about a four-hour drive west of Denver. Aspen is the place to be for steep slopes and to see and be seen. The Little Nell, near Aspen Mountain's base, is the epicenter of the action. It's also the only ski-in, ski-out resort in the area, adding to its exclusivity. Every season, the Little Nell attracts a slew of celebrities and crypto millionaires.
Snowmass offers a low-key ski experience with accommodation, dining, and drinking options that won't break the budget. It's only 20 minutes away and skiable on the same lift ticket. 
With more than 60 miles of Nordic terrain, it also has one of the largest free-groomed cross-country ski trail systems in North America. Snowmass has a wider range of terrain than Aspen Mountain, which has no beginner runs. At the largest of the four Aspen Skiing Company facilities, there are lots of simple green routes and heart-racing double blacks.
Vail and Beaver Creek
This charming town has a mountain-elegance-meets-rustic-calm vibe to it. These characteristics are amplified in the spring. As a starter, you won't have to get up as early to take advantage of the light and new slopes. Softer snow allows for smoother skiing, which can assist beginners and children gain confidence on the slopes.
While the slushier snow is excellent for skiing, it is also heavier, so you may need to wax your skis and snowboard to help with a smooth glide. Because of the resort's wide and varied terrain, it can easily accommodate all levels of skiers, from beginners to specialists, and decent conditions may nearly always be found somewhere on the mountain. 
Beginners and intermediates favor the polished upper slopes, while experts and advanced skiers will appreciate the backside's terrific tree skiing, steeps, and moguls.
The distance between Vail and Beaver Creek is less than 10 kilometers. Despite the similarities between the two resorts, this smaller, more intimate spot is great for youngsters, especially when you consider beginner-only trails and skilled ski instructors. Longer days mean more time outside, and it's a warm and welcoming spot to snowboard or ski. 
You may also relax and enjoy some après-ski treats on the patio at Talons, located at the base of Larkspur Bowl, or across the street at Buffalos at The Ritz-Carlton, Bachelor Gulch.
If you want to enjoy skiing in night, then you should visit Keystone. Get more information about night skiing here.
Telluride Ski Resort
Telluride, located in the San Juan Mountains, is one of the most picturesque ski towns in the United States. It's no surprise that Telluride has become a popular resort destination with a top-tier ski resort with outstanding terrain and reliable snowfall amounts. It is one of the best places to ski in Colorado to rack up some big verticals. 
With a base elevation of 8,725 feet and a maximum elevation of 13,150 feet, the resort spans over 2,000 acres (4,425 feet vertical drop). The mountain has a nice mix of beginner, intermediate, and advanced level runs and a significant quantity of hike-to terrain for more severe skiing for specialists. If you don't feel like skiing, there are plenty of other options. There are lots of bars and restaurants to choose from and eccentric shops and trendy boutiques.
March and April are two of the snowiest months in Colorado, so you'll enjoy perks mentioned above and the fresher tracks. With Fresh Tracks Transportation, we'd like to relieve some of your transportation stress this spring. Fresh Tracks Shuttles picks you up from Denver airport and transports you to your preferred ski destinations through Dillon airport shuttles.
We provide the most economical shuttle services in Colorado, whether its DIA to Breckenridge shuttles, Keystone shuttles, Airport shuttles to Silverthorne or any other resort. So, get in touch with us and reserve a shuttle for your next trip to Colorado.