Summit County, Colorado, is encircled by a series of startling peaks famed for their siren melodies, which promise fresh powder in the winter and adrenaline-pumping action in the summer. The mountain communities of Frisco and Silverthorne are tucked between the ski resorts.
The top things to do in Silverthorne and Frisco are sometimes interchangeable with the most incredible things to do throughout Colorado. These towns are hotspots for outdoor recreation and entertainment. Here you will get numerous options for an action-packed vacation, from hiking and biking to shopping and dining.
These communities have something for everyone to enjoy at any time of year. Apart from the obvious skiing and snowmobiling in winter, here are the top spring activities in Silverthorne and Frisco.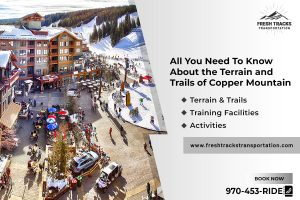 Activities To Enjoy in Frisco and Silverthorne
Explore Frisco's Historic Downtown
Frisco began as a silver mining town in the Colorado Rockies in 1879. Frisco now has fewer than 3,000 people, making it a tranquil mountain town in Summit County. However, a simple trip around downtown reveals a friendly and joyful community.
Although the lively historic center is only around two square miles in size, it is densely packed with adventure sports outfitters, restaurants, shops, and even a historical park.
Frisco Adventure Park
Start at the Frisco Adventure Park, where you may cycle, skateboard, play disc golf, and go tubing in the summer and winter. The Frisco Nordic Center is located directly across the street and offers cross-country, skate, snowshoe rentals, instruction, and tracks. You can take a sleigh or chuck wagon trip to enjoy the real Wild West experience.
Raven at Silverthorne's Three Peaks Golf Course
The Raven Golf Course in Silverthorne is Colorado's top-rated golf course, set among enormous pine and aspen groves, beautiful rivers, and fish-filled lakes. Despite the numerous elevation changes and some problematic holes, beginners will have a good time.
The on-site personnel can help you brush up on your abilities with lessons. The Raven Golf Course restaurant has a complete bar and an outside patio with breathtaking views. On weekends, they provide local live music and a large variety of American cuisine.
Silverthorne's Lake Dillon Theatre Company
The theatre is modest, and its intimacy contributes to the success of its performances. It is housed in a historic structure, previously the Dillon Town Hall in 1899. They feature live concerts, such as Shout! The Mod Musical and dance parties regularly. They host outdoor musicals at the Silverthorne Performing Arts Center, where many people enjoy sitting on the grass and enjoying along with actors singing and dancing.
Silverthorne Outlet Shopping
Silverthorne will leave you dazzled if you enjoy shopping. The Silverthorne Outlets are divided into three villages, each with over 50 different stores to peruse through. You may buy new clothing and kitchen appliances from American Eagle Outfitters and Coach to Williams Sonoma and Le Creuset!
You'll save 30-70% because these are outlet stores, which means you'll have more money to spend on wonderful restaurants and lift tickets!
For foodies we have a special blog written on the best on-mountain dining options in Colorado.
Frisco's Lake Dillon is Must-see
Thousands of tourists visit Lake Dillon each year, making Frisco an ideal home base from which to explore the area. Visitors to the Frisco Bay Marina have immediate access to the alpine waters, whether renting a boat and gear or launching your boat. Non-motorized boating is also very popular, with people paddling out in canoes, kayaks, and stand-up paddleboards.
Fishing is another popular activity on Lake Dillon. The Frisco Bay Marina even has a little beach nearby, where you will see both locals and tourists found relaxing on the sand, soaking in the last rays of the summer sun.
Go Hiking & Biking | Spring Activities in Colorado
If you can manage the rocky terrain, Summit County has some of the best hiking routes in Colorado state.
Silverthorne
Evergreen forests, mountain peaks, and a stunning natural setting surrounds the town of Silverthorne, making hiking a must-do activity for visitors. Some of the best hiking paths, including the famous Continental Divide Trail, are also close to Silverthorne.
The Blue River Trail is one of the most popular hiking trails in the Silverthorne area, even though there are many others. This was owing to enhancements done in the Silverthorne area to make it more bike friendly. They also offer several bike events to encourage people to ride instead of drive.
Frisco
The Frisco Lodge is conveniently located right in the center of it all. Summit County has hiking paths for hikers of all abilities, but for those who want to relax, Rainbow Lake is a local favorite where you may do whatever you want.
If you wish to take a stroll or hike to Breckenridge, this is a terrific spot to start. There will be no better feeling than enjoying the lovely weather on two non-motorized wheels, commuting to work, hitting one of the many mountain bike routes, or racing one of the many miles of paved paths in Summit County.
The most obvious choice for the casual biker is to tackle the 18-mile long bike trail around Lake Dillon, which is easily accessible from the Frisco Lodge.
The towns of Silverthorne and Frisco are the ideal basecamp for all your high-country exploring, whether you're looking for a family-friendly weekend or an adventure-filled vacation. Fresh Tracks Transportation is available to assist you with your journey.
Fresh Tracks Shuttles are not only the best ski shuttles in Colorado, but our Denver Airport Shuttles are also regarded as the best in Colorado. So, whether you're looking for Denver to Summit County shuttles, DIA to Frisco shuttles, or airport shuttles to Silverthorne, book these Summit County shuttles as soon as possible and get ready to embark on your trip.