Even if the 2022 ski and snowboard season is drawing to a close, it doesn't mean the fun at your favorite local ski resort has to stop! If you've been aching to return to Summit County's slopes, you may do so this summer for various exciting events! Planning a summer ski resort getaway is a terrific way to get away from the Front Range heat and spend a long weekend in Summit County! Summers in Summit County are well-known for their beauty.
It isn't easy to decide what to do when you have world-class fishing, hiking, and riding right in your backyard. Make the most out of your holiday by participating in some of the best things available in the area. Whether you're searching for a relaxing hike or a thrilling zip line, each will undoubtedly be the highlight of your trip to Colorado. Let us help you find the engaging summer activities in Summit County with vast outdoors.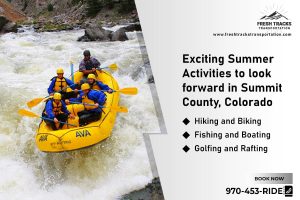 Best Activities To Do In Summit County
Hiking and Biking | Summer Activities in Summit County
Two popular activities to enjoy in Summit County are Hiking and Biking. Hiking is the least priced and most popular Colorado activity. The most appealing aspect of Summit County is being able to enjoy the wilderness and the great outdoors. Breckenridge Resort offers a variety of hiking paths that are only a few minutes away from the resort. Some of the best treks in Summit County may be found on Colorado hiking trails.
Hiking is the most popular summer pastime, and you can't top the spectacular scenery and abundance of species! Trails of various difficulties may be found around the area. Hidden treasures can be found all over the highlands.
Hundreds of picturesque miles of single-track and paved bike lanes wind across designated national forest lands in Summit County. This is a fantastic way to enjoy the great outdoors, regardless of your skill level. Fresh air and breathtaking vistas of huge mountains, verdant woods, and a sea of wildflowers can transform your life.
If you forgot your bicycle, don't worry; there are plenty of bike shops and outdoor rental shops to select from. Adrenaline seekers will enjoy the resort's paths, which allow them to race down the slopes. All of the local bike stores provide cutting-edge mountain bikes with cutting-edge features as well as a variety of road bikes that will have you ready for any terrain!
Fishing and Boating
Perhaps you want to take in the scenery, relax in the peaceful environment, or catch your meal! Whatever the case may be, Colorado has some of the best fishing in the country. The state's large reservoirs provide excellent lake fishing. Three of the largest warm-water reservoirs, Horsetooth Reservoir, Chatfield Reservoir, and Lake Pueblo, are home to bass and walleyes.
Anglers can drive or climb several small high-country lakes and streams in the Alps to catch both stocked and wild trout. Rocky Alpine National Park alone includes over 150 fish-bearing lakes and streams, many of which are off the main road and surrounded by breathtaking mountain scenery. If you love fishing and boating then this is one of the best locations to enjoy summer activities in Summit County.
Lake Dillon serves as the focal point for all water-related activities. There are other options available, including renting from Frisco or Dillon Marina. Canoes, kayaks, stand-up paddleboards, and pontoon boats are among the options. With so many lakes in Summit County, you can choose your favorite and prepare to go boating in this magnificent wonderland.
Golfing and Rafting
There are several fantastic golf courses in Summit County to select from. Golf courses in Summit County are regarded as some of the best in the country, with breathtaking views and lush rolling fairways. Immaculate greenery, towering pine and aspen stands, snow-capped peaks, and crystal-clear rivers with trout-filled lakes surround the place. This is likely to be a once-in-a-lifetime experience with a stunning mountain backdrop.
Because we have some of the best rivers in the country, rafting is one of the most popular sports in the state. Expect an exhilarating and fast-paced thrill experience unrivaled by any other activity.
Upcoming Events
While Summit County offers a wide range of recreational opportunities, several forthcoming events will help you make the most of your visit. The Breckenridge Music Festival takes place in late July and early August. This annual event brings together a professional musical ensemble from the area.
The Breckenridge Main Street Art Festival, which takes place in August, is a nationally recognized fine art festival. Over a hundred artists will compete in various categories, presenting the best fine art in the country. The Bacon & Bourbon Festival in Keystone offers a variety of family-friendly activities.
Other events worth attending include the Silverthorne Fine Art Festival, the Great Rubber Duck Race, and Silverthorne's Pumpkin Fest. Several great events take place in Summit County. The expanding festival circuit guarantees to provide something for everyone, whether you're searching for delicious food and great beer or want to see some beautiful art.
Summit County brings tourists together to celebrate anything from scenic beauty to art, wine, bike racing, hiking, and shopping, so keep a lookout for information about summer festivals and outdoor activities. Book ride with Fresh Tracks Transportation to make your visit to Summit County a memorable one.
With our Fresh Tracks Shuttles, we can lift your worries about transporting you to your favorite spot. Our Denver airport shuttles, DIA to Vail airport Shuttles and shuttles to Silverthorne to take you to your favorite spots in comfort and luxury.
Finally, if you want to spend your summer in Breckenridge and take advantage of the best hiking trails in the area, book our Breckenridge airport shuttles for the best experience. So, contact us and get ready to embark on an adventurous journey this summer!