Summertime means it's gone time for hiking. When the snow in Colorado melts, the beauty underlying it is seen in all its glory. There are numerous excellent national parks to hike in around Summit County. Admittedly, there are so many best hikes in Summit County that you will find it hard to make a choice.
The entire state shows the breathtaking mountain ranges, ridges, and many routes that intersect it. These easy hikes are suitable for people of all ages. Let's find out some of the best Beginners Hikes in Colorado.
There are many paths and wonderful tracks in Colorado Springs and the easy hikes near you. Don't forget to bring water and sunscreen (a hat is a fantastic idea!). Choosing a hiking trail in Colorado is no easy endeavor; there are millions of acres of wilderness to explore, and it's difficult to know where to begin.
These five hiking trails through some of Colorado's diverse landscapes are perfect for people looking for an easy introduction to hiking.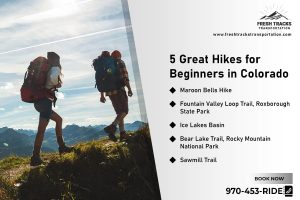 Top 5 Hiking Trails in Colorado
Maroon Bells Hike
Maroon Bells has a variety of hiking paths and some of Colorado's most spectacular landscapes. Cascades, lakes, and golden aspens abound in this Rocky Mountain panorama, which is set against the iconic backdrop of the Maroon Bells peaks.
Along the walk, there are various waterfalls and countless fields of wildflowers, depending on the season. Expect a wide range of colors, from red to blue to green, due to the numerous geologic wonders in this area. 
The state's most photographed peaks, the Maroon Bells, are only one of the highlights of this widespread and lengthy journey connecting two of our most beloved mountain towns. Millions of flowers, towering mountain faces, alpine lakes, and waterfalls abound on this trip.
The peak blooming season for meadow wildflowers varies from year to year, but it usually occurs around the end of June. Unless you're a marathon hiker, stay in Aspen for a night before heading back to Crested Butte.
Fountain Valley Loop Trail, Roxborough State Park
Elk and deer feed in thickets and clearings, while red rocks erupt from grassy fields, birds fly across the fresh blue sky, and elk and deer graze in thickets and clearings. These are regular sights in Roxborough State Park, within an hour from Denver.
Bikes, pets, and personal motorized vehicles are not permissible in this day-use park, in order to save the serenity of natural beauty for your hike. The park does have its own motorized shuttle that can transport up to seven people on a 2.3-mile ride around the Fountain Valley Trail, where you can see fascinating rock formations. 
Visitors who need assistance getting around can take advantage of the park's beautiful environment by taking the shuttle. The Fountain Valley Trail is so beautiful that you might forget all the aches and pains you got on your first trip.
Access to Roxborough requires either a parking pass or a day admission. You cannot take your pets along with you. After going through Fountain Valley, you can explore some of the other sites on the park's south end if you still have energy.
Ice Lakes Basin | Beginners Hikes in Colorado
The Ice Lakes Basin is a popular hike for a reason: the eponymous Ice Lake is one of the most beautiful in the Rocky Mountains. Many people exclaim that this is the most spectacular trail in Colorado when they see such pristine azure colors.
The lake is worth the moderate climb. You will love the gorgeous wildflowers and a theatre of 13ers, and you have got yourself a no-brainer.
The hike begins at a moderate gradient near South Mineral Campground, Silverton, before leveling out at Lower Ice Lake. You can see why this trip is regarded as one of the best wildflower hikes because the basin is frequently carpeted with indigenous plants.
This lake will astonish you, but don't lose sight of our ultimate target, Upper Ice Lake. The trail's crown treasure is Upper Ice Lake. It's a deep blue color with several beautiful peaks surrounding it.
Bear Lake Trail, Rocky Mountain National Park
This short and easy hike in Rocky Mountain National Park loops around Bear Lake. It runs through a pine forest and gets a lot of snow in the winter. The sheltering tree line dampens sound and protects you from wind and overheating regardless of the season.
The tall trees provide an ideal habitat for various birds, elk, and deer. Throughout the path, there are informational kiosks that discuss the area's vegetation, animals, and geology. If you're traveling with children, this is an excellent opportunity for them to burn off some of their pent-up energy.
Sawmill Trail
The Sawmill Trail is a short hike that is ideal for novices or people who are not comfortable to higher altitudes. This trek is great for summer since it is sheltered the majority of the way. From there, take in the majestic mountain vistas, which are cover by dense woods.
Stop beside the pool for a picnic lunch and take in the breathtaking views and scenery prior to returning. Sawmill Trail is one of the easiest hiking trails in Breckenridge. It has easy access from the Snowflake chairlift, Four O'clock Road, and Kings Crown Road.
This collection of hiking routes in Colorado offers a lot of variation, making it ideal for vacation planning. Avoid adverse situations by making plans in advance. Fresh Tracks Transportation offers its Fresh Tracks Shuttles to help you cross some items off your to-do list.
Our DIA to/from Dillon Shuttles will help you to enjoy hiking in Dillon. Book your ride today to enjoy some of the best hikes for beginners in Colorado. So, whether you are flying in or out, our Denver airport shuttles (or DIA to Keystone airport shuttles) are ready to take you on this hiking adventure.