Are you looking for best Colorado wedding destinations? We can't say we blame you. The outdoorsy state twinkles like a fairytale realm, with kind-hearted people by your side, snowy peaks in the distance, and brilliant flower fields in between. If you're going to start a new life with someone, it's going to be a difficult task to find a better place to do it than Colorado.
You have the opportunity to honor and celebrate your love at the most gorgeous wedding and event locations in Colorado, the Centennial State, whether you're already lucky enough to be a local or wise enough to make a destination wedding absolutely, truly worth it.
Colorado is a large state with a diverse range of breathtaking beauty. While our mountains are undoubtedly our most famous feature, we also have deserts (yes, really!), dunes, and charming cities. Do you want to stand on the peak of a mountain? Want to enjoy off-roading in the backcountry with a Jeep? Do you want to be close to Denver's airport or are you willing to drive a long distance away? Whatever it is that you've always wished for, we have it.
Colorado's amazing experience will make your wedding day even more unique. So, buckle up and prepare to find your perfect spot on your special day! Fresh Tracks Transportation provides Wedding Shuttle services to top wedding destinations in Colorado, to flawlessly make your plans for an unforgettable wedding ceremony in the mesmerizing landscapes.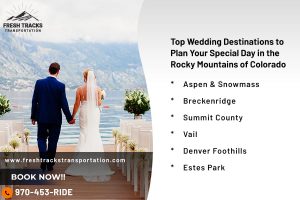 Destination Wedding Spot to Choose
Aspen & Snowmass
From icy slope side vistas to huge country clubs and romantic intimate restaurants to breathtaking mountain settings with panoramic views, the Roaring Fork Valley, home to an eclectic assortment of mountain villages, provides a broad choice of wedding venues. To capture the wonderful beauty of Colorado, plan your wedding with outstanding local suppliers in Aspen, Glenwood Springs, Snowmass, Carbondale, or Basalt.
Top Wedding Destinations in Breckenridge
The picturesque mountain hamlet of Breckenridge, Colorado, is nestled among the soaring Rocky Mountain peaks. Every season of the year provides new life and beauty to the lovely city, from the store-lined main street to world-class skiing and stunning fall hues. Plan your wedding in Breckenridge to take advantage of the city's beautiful scenery and cozy nooks.
Colorado Springs
As a Colorado destination wedding location, Colorado Springs, nestled in the Pikes Peak region, offers breathtaking views and exciting activities. There are lots of locations to visit and places to be for every type of adventure for your Rocky Mountain wedding, from the Garden of the Gods to the Manitou Incline.
Summit County
Keystone and Silverthorne, located between the Continental Divide and the Gore Range and bursting with winter and summer activities, are perfect destination wedding sites in Summit County, Colorado. This vacation wedding venue is ideal for a couple who isn't afraid to get a bit dirty while exploring Colorado's natural splendor. Plan your wedding weekend in Summit County for breathtaking scenery and a plethora of local talent for your special day.
Denver
It is the destination wedding option for you if you're seeking a Rocky Mountain wedding destination with mountain views and a bigcity feel. Denver is the ideal place for couples who seek the best of both worlds, as it is only a short drive from mountainous peaks and home to a lot of urban attractions. Start arranging your Rocky Mountain I Do's in the Mile High City today by finding your perfect vendors from Denver!
Vail
Vail, Colorado is the ideal place for couples wishing to combine rustic Colorado views with classic European grandeur. It is known for its breathtaking mountain views and European charm. Plan your wedding at one of the state's most beautiful sites with the best local providers. Your wedding day in Vail will be unforgettable!
Denver Foothills
In Colorado foothills, you'll find wedding ideas from Morrison, Evergreen, and Bailey. The Denver foothills are the ideal Rocky Mountain vacation site for any wedding celebration, thanks to its lush woods, stunning winters, and temperate summers. For your "I do's" in the Denver foothills, choose from a broad range of outstanding local providers and stunning settings. During your Rocky Mountain wedding weekend in the Denver foothills, plan a day of water sports on Evergreen Lake or a day of exploring the local small villages.
Estes Park
It is the home to elk and bears and is located at the base of Rocky Mountain National Park. Estes Park is the destination wedding site for you if you're looking for an intimate, peaceful, and magical setting for your Rocky Mountain wedding. The tiny town and miles of trails ensure that breathtaking mountain views abound in Estes Park. Plan your Estes Park wedding with a dream team of local vendors to make your big day remarkable!
Settled on your dream destination yet? Let us help you in making your decision easy. You don't have to worry about getting to the destination, because Fresh Tracks Transportation has got you covered!
Final Thoughts
We offer wedding shuttle services in Breckenridge, Vail, Beaver Creek, Keystone, Dillon, Frisco, Copper, Silverthorne, and even Arapahoe Basin! Fresh Track Shuttles pick you and your wedding guests up from the Denver International Airport to Summit County.
Your guests are our guests! Our shuttle services make sure that your guests are treated with the best service in town. Enjoy a unique experience with us. We will go the extra mile to make your day special, so whether they are Breckenridge shuttles or Denver shuttles, Book with us soon and reserve your spot for the truly unforgettable Coloradan experience.