Millions of visitor's flocks to Colorado's stunning landscape to be mesmerized by its natural beauty. Inexpensive Shuttle Services will make your visit of Colorado more enjoyable. With so many cities and towns to pick from, each with its own unique outdoor activities, cultural attractions, and general Colorado charm, it can be tough to determine where to go on your next vacation, and even more difficult to decide on how to get there.
Well, we might be able to assist you with it so that you don't have to worry about it. Fresh Tracks Transportation is at your service, bringing you the most economical and safe shuttles to your favorite towns!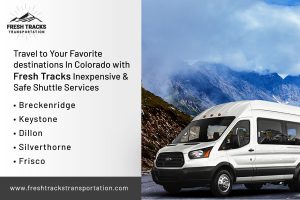 Shuttle Services in Colorado
Breckenridge
Let's start with some of the most well-known places in Colorado that you might wish to visit. Let's begin in Breckenridge.
Breckenridge is rightfully regarded as one of the top ski resorts in the country but taking the time to explore the town's off-piste delights may be incredibly rewarding. You can take a tour with a local guide to learn about Breckenridge's experience in the vibrant arts and cultural scene.
Popular tours include the Historic Tour, the Haunted Tour, and the Gold Mining Tour. In the summer, you can go hiking, bicycling, fishing, paddling, and rafting, while in the winter, everyone flocks to the slopes to participate in world-class winter sports and ride the country's highest ski lift.
The magnificence of a Breckenridge sunset and star-studded night sky is a joy to see no matter the season – and worth returning to year after year, and our Breckenridge shuttles are here to help!
Inexpensive Shuttle Services in Keystone
Keystone is home to the most skiable terrain in Summit County. Throughout the summer, Keystone organizes a number of festivals, including the Keystone Wine & Jazz Festival in July, the Keystone Bluegrass & Beer Festival in August, and Oktoberfest in September. Keystone welcomes you with its breath-taking views and fresh, crisp powder with the World's largest snow fort, Kidtopia.
Take the kids to Kidtopia, where they may participate in daily activities such as face painting, crafts, stargazing, and more! Ice skaters in the winter and paddle boaters in the summer frequent Keystone Lake.
Cross-country skiers and snowshoers are welcome at the Keystone Nordic Center, which also offers to coach. During the summer, the ski routes are transformed into hiking trails.
It's also fun to go horseback riding or play a round of golf on one of two high-altitude courses. So, we'd say that you wouldn't do your trip justice if you're not planning on visiting Keystone. Don't worry about finding your way because our Keystone shuttles are here to assist you!
Dillon
Dillon is a laid-back mountain community with welcoming residents. Many long-standing and historically significant eateries, such as Pug Ryan's Brewery and Arapahoe Café, can be found on Main Street Dillon. Find hidden gems in one of the many thrift stores or music stores. The Tiki Bar at Lake Dillon Marina is a local favorite throughout the summer months.
Throughout the year, the newly restored Dillon Amphitheater features concerts, movies on the water, yoga, and festivals. Many of the concerts and movies are also free to attend!
The famed Ice Castles can be found in Dillon throughout the winter months. Hundreds of thousands of icicles are hand-placed by trained artists to create the Dillon ice castles.
LED-lit sculptures, ice-carved tunnels, slides, fountains, frozen thrones, and more can be found inside the castles. Fresh Tracks Dillon Shuttles will take you to a variety of interesting activities, historic restaurants, live music, breathtaking vistas, and more.
Silverthorne
Silverthorne is Summit County's stylish, artsy newcomer. Visiting Silverthorne is a terrific way to avoid the crowds while still enjoying the arts. At the new Silverthorne Performing Arts Center, the award-winning Lake Dillon Theatre Company performs every day.
Every first Friday of the month, come to Silverthorne to celebrate with the community's outstanding craftsmen, performers, and locals. Cycling Vendor Showcases, Snow Bike Festivals, Rail Jams, Burning Snowmen, and more events have taken place in the past. Silverthorne's Outlets offer some of the best shopping in the Rockies.
With over 40 boutiques ranging from luxury clothes to home furnishings, you're sure to find something for everyone!
Silverthorne has some of Colorado's top hiking trails right on its doorstep, so take advantage of our Silverthorne Shuttles to see more of the town.
Frisco
Frisco is a perfect example of a Colorado mountain town. Breckenridge Ski Resort, Copper Mountain, Keystone Resort, and Vail Mountain are all within reasonable driving distance, although the village is away from the throngs of the resort cities. Frisco has one of the nicest Main Streets in the state, with a diverse selection of eateries and boutique stores.
Frisco is often referred to as the "Gateway to the Rockies." As you approach Frisco and see beautiful views of Mount Royal, Buffalo Mountain, and Peak 1 of the Tenmile Range overlooking the enormous Dillon Reservoir, prepare to be taken aback by the majesty that surrounds you.
The Frisco Bay Marina, where tourists can hire paddleboards, canoes, kayaks, fishing boats, pontoon boats, or take a sailboat trip during the summer, provides access to the Dillon Reservoir. With our Fresh Tracks Frisco Shuttles, you can get around Frisco and learn about the city.
Now that it's time to pack your bags, choosing your favorite destination can be a little tricky. Fresh Tracks Transportation is here to make this decision easy by providing you with the safest and most inexpensive shuttle service to these towns!
Final Thoughts
Fresh Tracks Shuttles provide shuttles services from Denver International Airport to Breckenridge, Vail, Beaver Creek, Keystone, Dillon, Frisco, Copper, Silverthorne, and even Arapahoe Basin. We also provide wedding shuttle services to these towns. Our shuttle service will make your trip to this winter wonderland a bit more magical with our quality service.
We adhere to all Covid SOPs and are here to make your journey safe and enjoyable. So reserve one of our Summit County Shuttles and prepare for a genuine Colorado vacation!