Spending the holiday season on skis or a snowboard with your family is a terrific opportunity to bond and create lifelong memories. Warming up by the fire, watching the snowfall, and snuggling up for all the other delights of the season are all part of the fun of celebrating at a resort. The décor, twinkle lights, and overall festive ambiance may make for an unforgettable excursion for your family.
While there are many places in the country, where you can go skiing this winter, Colorado is one of the best in the country, if not the world. The Rocky Mountains provide one of the most amazing and inspiring settings for putting on your skis and letting go.
So, this winter, why not take a ski trip to Colorado? While this may appear daunting at first, it does not have to be. We\'re here to help you plan the perfect Colorado ski trip this winter, so you can have the most bang for your buck and leave feeling like you've truly experienced the genuine thing.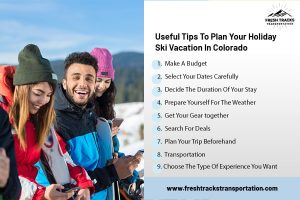 Ski Vacation in Colorado
Decide The Type of Experience You Want
The most important aspect of your planning is deciding on a resort.
Do you have a family of rippers who don't require any coaching and aren't interested in anything else at the resort than skiing? You might want to choose a resort with more difficult terrain. Look for a resort with a ski school, such as Beaver Creek, if you have younger children who are new to the sport.
If your party has a wide range of abilities, a large resort, such as Vail in Colorado, may be the best option. What else would you like to do while you're in town? Do you enjoy a spa day in the middle of your vacation? Is it important to you to go shopping? If so, make a reservation at a resort that offers all of these perks.
Make A Budget
Every ski resort offers a diverse choice of activities and having a budget in place ahead of time might help you avoid sticker shock. The concierge at the resort can assist you in sticking to your budget by recommending hotels and activities that are within your budget.
If you're on a budget, choose one splurge event, such as a horse-drawn sleigh trip or a gourmet lunch by the fire. While creating a budget takes some effort, it is well worth your time so that you can keep your spending low and your stress levels low.
Select Your Dates Carefully
The ski season varies from year to year, but you can normally expect it to run from the end of October to the end of May. However, because snowfall differs from place to place in Colorado, be sure to research the precise area you'll be visiting in greater depth. The closer you get to the middle of the ski season, the better, because the early snowfall tends to be less, and the closer you go to spring, the mushier the snow will be.
Also, double-check that the dates work for everyone on your trip.
If you are taking the kids skiing, try to schedule it during a time when they won\'t be skipping a lot of school. Make a schedule that works for everyone.
Decide The Duration of Your Stay
After you have decided when you want to go, you will need to figure out how long you want to stay. This is mostly determined by your finances as well as your work, education, and other commitments. However, because you will be travelling in the winter, allow for some flexibility, as snow can cause major disruptions to travel plans, regardless of method of transportation.
Prepare Yourself for The Weather
Without a question, layering and being prepared for the elements are the best ways to remain warm on the slopes. Staying warm necessitates layering and staying dry necessitates wearing waterproof clothing. Consider all of the items you will need to pack in addition to your skis and snowboards, such as water-resistant gloves, wool socks, base layers, snow trousers, and a jacket.
Ski goggles, for example, are an important part of any skiing or snowboarding equipment since they protect your eyes from the environment and injuries. While you may have some essential clothing and gear at home, you should assess your wardrobe needs and make plans to purchase at least some stuff.
Get Your Gear Together
Ski equipment is both costly and inconvenient. Many families find that renting all of their equipment after they arrive at the resort makes the most sense. This is especially true if your children only ski once or twice a year, as they will quickly outgrow your investment. You will also always be skiing on the most technologically advanced equipment available.
Search For Deals
Don't put off purchasing your lift tickets until the last minute. If you put in some effort before leaving, there's a high chance you will be able to get affordable lift tickets online. In fact, we\'d be astonished if you bought your ski tickets at full price.
First-time lessons are much less expensive than other lessons. Take full advantage of the discounts and security! Plus, if you are travelling at a busy period, being in a lesson or ski school group allows you to skip the lift lines! January is National Learn to Ski and Snowboard Month, in case you didn't know.
Special January deals for the Never Ever Ski and Snowboard packages can be found. If you have everything arranged ahead of time (which is best), you may be able to purchase early season passes, which will save you a lot of money.
Plan Your Trip Beforehand
If you go at these busy times, especially on the weekends, expect to see more people. To assure a spot, book your lodging and campsites early in the season. Also, if you purchase something other than day tickets, make sure to double-check your pass. If you buy a less expensive pass, most resorts will block off holiday dates.
Take use of the outstanding customer service available at most resorts to assist you in planning your trip. They will let you know if you need to book ski lessons, dinner reservations, or other mountain activities ahead of time. It's preferable to figure it out now rather than being disappointed later.
Transportation
Once you have arrived at the Denver International Airport, don't worry about getting to these resorts because Fresh Tracks Transportation provides the safest and most comfortable transportation in town. Bring you the most affordable deals, Fresh tracks offers ski shuttles to Ski resorts of Beaver Creek, Breckenridge, A basin, Copper Mountain, Keystone, Vail, and Silverthorne. So, book with Fresh Tracks to get a ski shuttle to take you on this epic ski adventure.
It's natural to feel overwhelmed while planning your first ski trip. However, with a little preparation and knowledge, your first skiing or snowboarding trip will be a blast. The most important thing you can do to ensure a successful trip is to plan, plan, and plan.
So, begin your research and begin making plans for your first ski adventure. Also, leave some wiggle space in your plan for the unexpected. Because it's a good idea to plan ahead of time, but it\'s also a good idea to go with the flow and leave some room for unanticipated experience.