Colorado and its ski towns are among the best destinations to spend the holidays in the world. Copper Mountain, Keystone with the night lights, Beaver Creek, and, of course, Breckenridge are just a few of the world's top cities, resorts, and slopes.
Vail is located directly across the street from Beaver. These towns are well-equipped to accommodate the large numbers of people who visit during the winter holidays, with plenty of things to do and places to eat. Every year, an increasing number of people visit these places for the first time, and many of them are left wondering what to do. In November, there will be one major holiday.
With Thanksgiving just around the corner, everyone is wondering where to head for a dine-in. Don't worry, we've got it figured for you.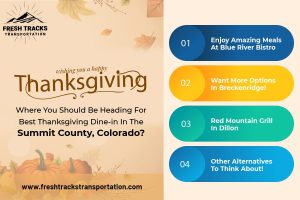 Dine-in Summit County
Enjoy Amazing Meals at Blue River Bistro
In addition to their regular menus, many local restaurants are serving festive buffets. Families that want a traditional holiday meal or a large Thanksgiving dinner with a twist don't have to prepare! Voted as the Best Curbside or Takeout Service during COVID-19 in 2020 Best of Summit awards, Blue River Bistro has some amazing meals up its sleeve.
As the pandemic progresses, Bistro's experience with to-go orders has equipped them to provide exceptional service to its customers. The three-course Thanksgiving feast at Blue River Bistro includes roasted turkey with garlic and thyme, shallot and gruyere mashed Yukon potatoes, roasted pear and pecan dressing, maple butternut squash hash, and fresh cranberry and orange sauce.
Fresh tracks Transportation offers you an affordable and quality commute to visit these spectacular destinations in Summit County, Colorado.
So what are you waiting for?
Make a reservation to experience the best Thanksgiving dinner in town. Start with a cinnamon and butternut squash bisque, then go on to a hefty Thanksgiving meal and pumpkin cheesecake for dessert. Get to experience an amazing meal this Thanksgiving and enjoy the cozy ambiance and a comfortable place to dine in with your loved ones. Bistro's is awaiting your arrival!
Never fear if you don't want to eat at a home-cooked Thanksgiving feast. It can be hard to decide where to eat in Breckenridge because there are so many options. Get ready because Spencers at Beaver Run is bringing back their buffet (with crab legs!). Spencers at Beaver Run Resort is returning with its annual buffet-style spread.
It is serving a classic Thanksgiving dinner with all the fixings!
Begin with a selection of soups, then pile your plate high with turkey, ham, prime rib, and a variety of sides. You may ski to the dinner table after a long day on the slopes and choose from chef-attended pasta and meat cutting stations, as well as snow crab and shrimp. Keep an eye out for the cheesecake, pie, and chocolate cake. Make a reservation for an unforgettable Thanksgiving celebration.
Want More Options in Breckenridge
Still, need more dine-in options at Breckenridge? Briar Rose Steak & Chop House is a perennial favorite. Check out Motherload Tavern, Sevens at Grand Lodge on Peak 7, or Quandary Grill if you're just looking for a plate.
Are you looking for a simple pick-up and delivery service? The Lost Cajun is preparing whole turkeys for you. Alternatively, phone ahead or place an order online for the deli or bakery at City Market and pick it up when it's ready!
There are numerous choices, but if you're coming from a big city, keep in mind that restaurants close earlier in ski towns, and there are not as many alternatives or availability, so plan early and make your reservations, whether for food, transportation, or entertainment.
Red Mountain Grill in Dillon
Looking for a Thanksgiving dine-in in Dillon? Red Mountain Grill is hosting Thanksgiving in the restaurant, which has become something of a tradition that began modestly. It began by providing Thanksgiving dinners to local workers who did not have family in town. Thanksgiving at the grill has grown in popularity over the years, and the restaurant has soon filled to capacity, with many regulars returning year after year.
This year, Red Mountain Grill is serving a Thanksgiving buffet that comes with a choice of soup or salad, truffled mashed potatoes, sweet potatoes, sausage stuffing, green bean almondine, cranberry sauce, turkey, and cranberry sauce, and a slice of pumpkin or apple pie to finish. The restaurant has a limited number of time slots available for their Thanksgiving to-go menu, so book your reservations now.
Other Alternatives to Think About!
Don't see anything that works above? There are plenty of other alternatives in both Keystone and Frisco. Make your Christmas meal extra memorable by dining at Bighorn Bistro and Bar or Keystone Ranch. Or dine at Frisco Prime for an unforgettable experience.
As you can see, Summit County has a variety of places to have a traditional Thanksgiving feast and participate in family-friendly activities. Conveniently book Shuttles in Summit County with Fresh tracks to enjoy thanksgiving at one of your favorite places. We know how difficult it is to pick where to eat. Whatever you choose, don't wait too long because Thanksgiving reservations are quickly filling up.