La Nina, which means "little girl" in Spanish, is a natural meteorological phenomenon. Furthermore, it is characterized by cooler-than-average surface sea temperatures near the equator in the central Ocean. It's expected to continue this winter and spring, influencing weather patterns across the United States.
Winters in the northern United States are colder and snowier as a result of La Nina. There's a chance that a La Nina will bring above-average snowfall to Colorado's northern mountains this year. When sea surface temperatures in the Pacific Ocean off the coast of South America are below average, La Nina occurs.
La Nina has formed again , and NOAA predicts that it will have an impact on United States Temperature. During the winter ,we had a moderate La Nina, which resulted over 80 inches of snow in Denver.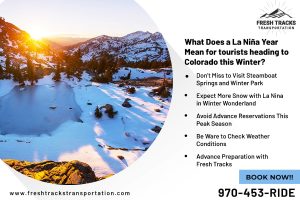 La Nina Year 2022
Don't Miss to Visit Steamboat Springs and Winter Park
It\'s difficult to forecast what will happen in Colorado during a La Nina winter since there are so many variables at play, from the diverse topography to the great distance from the oceans. The final result will be determined by the path of the jet stream. In terms of snowfall, the north-central and northwest mountains are usually the most consistent.
During a La Nina winter, places like Steamboat Springs and Winter Park can see a lot of snow. During a La Nina winter, southern and eastern Colorado can be warm and dry, whereas the central and western regions of the state don't normally favor anyone's tendency.
Expect More Snow With La Nina in Winter Wonderland
Now that we have a good idea of how La Nina will affect the weather in Colorado this year, let's speak about the tourists that will be there. Colorado is a winter wonderland, and visitors come from all over the country and even the world to be charmed by its majesty and to immerse themselves in a true Colorado vacation, as well as to appreciate the beauty of peak winters.
Well, La Nina brings more snow to some of the areas of Colorado while bringing a warning of dry spells to others, it is not stopping the tourists from celebrating Christmas this year in Colorado. But tourists are advised to be careful and prepare for the holidays accordingly. Make your itinerary and prepare for your travel in advance.
Avoid Advance Reservations This Peak Season
One thing we do know about this winter is that making as many reservations as possible is critical. Restaurants are running at a lower capacity, making reservations more difficult to come by during peak season. During the ski season, hotels and lodging are frequently fully booked months in advance.
This year, even ski lift tickets are on a reservation system. We believe most hotels in Colorado are still operating at full capacity, although with restrictions on the facilities available. Booking your gear ahead of time simply means better rates, more selections, and less time spent figuring it all out once you arrive.
Aside from the obvious "stay home if you're sick," here are a few ideas to keep you and your crew healthy while still having a good time on the slopes this winter. At all times, wear a mask. Skiing with a small group of friends or family. Take a lunchtime break by packing some food in your car. Place a travel hand sanitizer in the pocket of your coat.
Colorado\'s Chain and Traction Laws are likely to be imposed, so travelers should be prepared. Before driving out in the event of road closures, drivers should make sure their vehicles are stocked with emergency supplies. Alternative chains traction devices, sand cat litter, water, flares, jumper cables, and blankets should all be included in an emergency kit.
Be Ware to Check Weather Conditions
Everyone should check the current avalanche and weather conditions before setting out and plan backcountry travel accordingly. Everyone should have an avalanche-rescue transceiver, a probe pole, and a shovel, as well as a working knowledge of how to use them.
If you're not sure about the weather, stay on slopes that aren't connected to harder terrain and are less than 30 degrees steep. "Know before you go," travelers are advised. Before you hit the road, gather information about weather forecasts, anticipated travel impacts, and actual road conditions.
Advance Preparation with Fresh Tracks
Fresh Tracks Transportation makes preparations in advance to ensure a safe and comfortable trip. So, give us a call for the best ski shuttle service in Colorado.
We provide Airport shuttle service to Breckenridge, Keystone, Copper Mountain, Frisco, Dillon, and Silverthorne, as well as resort-to-resort. Shuttle service is between Vail, Keystone, Beaver Creek, Copper Mountain, Breckenridge, and Arapahoe Basin.
Apart from all of the precautions we're doing on our end and adhering to Colorado travel restrictions, we need a little help from our passengers to make our shuttle services as safe as possible during pandemic travel and a La Nina year.