Colorado winters are unlike anything you've ever seen. It's a spot where visitors are treated like residents, and locals have a great time all season. Winter activities in Vail bring great financial benefits to the locals. Make Vail and A-Basin your mountain retreat this winter. The lower temperatures of winter provide an excuse to stay inside in most parts of the country.
Not here, where a fresh blanket of snow creates a stunning landscape and inspires a desire to get outside. Colorado and the cities of Vail and A-Basin are two of the most attractive destinations.
Vail is vibrant with the sounds of ski boots, dancing, and live music throughout the winter and spring. Vail is North America's largest single mountain resort, with 5,289 acres of iconic terrain that encompasses the Back Bowls' wide-open routes and Blue-Sky Basin's naturally loaded terrain.
Winter in the Rockies has a special place in our hearts at Arapahoe Cafe. Snow falls, the sun shines, and we have access to all of the winter activities.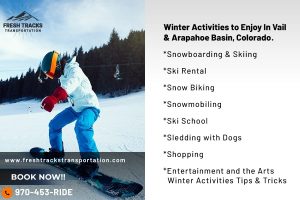 Enjoy Winter Season In Vail
Snowboarding & Skiing
Prepare to schuss over some of the world's most legendary ski slopes, Back Bowls, and massive Blue Sky Basin terrain in a single day. There are 195 "traditional trails" at this large resort, with Riva Ridge being the longest at four miles. Do you prefer shredding off the beaten path? Vail offers three terrain parks, as well as a superpipe and a tiny halfpipe.
Did you know that A-Basin is one of the world's best ski and snowboarding destinations? It's for a good reason. The Arapahoe Basin has the highest skiable terrain on the continent, attracting a worldwide throng of winter sports enthusiasts. Things to do in Arapahoe Basin allow you to get a sense of the area by taking a guided tour.
Ski Rental
A-Basin operates a rental shop at the base of the mountain. Even though A-rates Basins are reasonable, stores in Dillon, Silverthorne, and Frisco are also reasonably priced and may be worth investigating if you're staying there.
Ski Base in Vail, which is conveniently located in the same building as Landmark Condominiums, provides visitors a 30% discount on rentals if they present a flyer at the Front Desk or say that they are a Destination Resorts Vail guest. See Ski Butlers if you want in-room boot fitting and ski delivery delivered to you.
Snow Biking
Fat Biking is a new way to get outside in the winter, and it's a lot of fun! Fat bikes may be rented and used to explore all of the biking paths.
Snowmobiling
Snowmobiling is a terrific way to view a lot of the mountains and surrounding area. There are numerous rental firms, and if you don't want to go it alone, guided trips. They provide you with a professional guide, a snowmobile, and even snowsuits, boots, and helmets if you don't have your own. (If you're lucky, you might even receive a snowmobile with a heated seat!)
Ski School
A-Basin's ski and snowboard school aren't as huge as its competitors, but it's just as good. Many of the teachers have been there for decades, and they not only know how to teach, but they also know the mountain like the back of their hands! You can get personalized lessons for whatever length of time that matches your needs, from an hour to an entire day!
Sledding with Dogs
Get away from the crowds and go through unspoiled meadows and Aspen and Pine forests. View wildlife in its native habitat while taking in the gorgeous Colorado countryside. Seeing sled dogs in their natural habitat is a once-in-a-lifetime opportunity. A dog sled tour in the Colorado Mountains will take you on a snowy journey through time.
Experience a mode of transportation that dates back to the tenth century, and learn about the dogs and the surrounding environment from an expert dogsled guide. Warm wool blankets are given, but come prepared to stay warm. In the event of bad weather, you might wish to bring your goggles.
Shopping
Vail, Colorado is noted for its diverse range of boutiques, which include traditional Colorado attire, expensive furs, unusual jewels, and top-of-the-line ski wear. Vail offers some of the most unusual and stylish stores, but there are also fantastic souvenir and ski shops that aren't too pricey. Make sure to sample some of our world-famous Colorado fudge!
Entertainment and the Arts
Vail and A-Basin are routinely ranked as one of North America's most dynamic and vibrant ski towns, not just because of skiing its excellent terrain, but also because of its rich arts and entertainment offerings. There is something for everyone, including a diverse selection of bars, clubs, and restaurants, as well as year-round cultural opportunities and events.
Winter Activities Tips & Tricks
Ask your waiter or server at the Arapahoe Cafe where they like to do winter activities for our best advice and trick for winter activities.
They're natives who know a lot more than you think— and can point you in the proper direction for hidden snow stashes!
Transportation
Still undecided about which part of Colorado you'll visit? Allow us to assist you by making things easy for you. Fresh Tracks Transportation provides transportation from DIA to Vail and A-Basin, so you don't have to worry about getting about. So, whether you choose Vail Shuttles or A-Basin Shuttles, you'll be served with the safest and most comfortable shuttles available.
Let us worry about delivering you to your destination with Denver Airport Shuttles while you worry about deciding where to go. Now is the time to book your private Fresh tracks shuttles with Colorado's best ski shuttles!
Note: We are not offering the service in vail this year.