Welcome to one of Colorado's most popular outdoor recreation spots. Skiing and snow tubing are surely the most popular activities from many best things to do in Breckenridge. The downtown area is a swarm of activity, with everything from fantastic restaurants and shopping to high-end outfitters ready to assist you with any activity in the area. No season in Breck disappoints, whether you're skiing, snowshoeing, snowmobiling in the winter or camping, hiking, or strolling down historic Main Street in the summer.
It's one of the highest communities in America, with an elevation of about 10,000 feet above sea level, and the vistas reflect that. So buckle up and prepare to plunge into the heart of Colorado adventure. The 5 best things to do in Breckenridge, Colorado are listed below.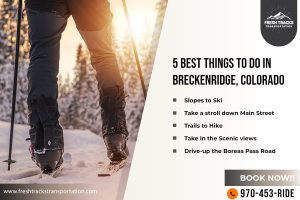 Awesome Activities in Breckenridge
Slopes to Ski
Breckenridge is one of Colorado's most well-known ski resort locations. The resort region, located west of the Continental Divide, spans five mountain summits, ensuring that you will never run out of slopes to conquer. Breckenridge boasts 187 trails and 2,908 acres of snowy terrain to explore throughout the five summits. Believe it or not, it's the continent's highest lift-served terrain. There are 31 lifts in all, including four high-speed lifts with seating for six people.
Peak 10, Peak 9, Peak 8, Peak 7, and Peak 6 are visible from left to right. Peaks 8 and 9 are ideal for beginners, with Peak 9 being the finest for beginning to ski. Peak 8 is where Breckenridge's heartbeats. Actually, it's where the ski town got its start. It's in the middle of everything and has the most diversified terrain. It's also home to the continent's highest ski lift.
The Winter Dew Series, a well-known action sports series featuring many of the world\'s biggest professionals, is hosted in Breckenridge every year. From novice ski and snowboard schools to guided backcountry excursions with the most experienced skiers and snowboarders, Breckenridge has it all.
Take a stroll down Main Street
Look no further than lively, historic Main Street in Breckenridge for the center of activity. Since Breckenridge's founding in 1859, not much has changed in this portion of town.
Many of the original structures are still intact, and their exterior will transport visitors back to a time when Breckenridge was a part of the Wild West gold rush. Over 200 boutiques line Breckenridge's historic Main Street, many of which are locally crafted or handmade.
A variety of packers and ski businesses lease and sell equipment to individuals who want to explore the nearby ski slopes. There are numerous apparel, restaurant, souvenir, and general merchandise businesses could choose from. Take a stroll alongside Main Street on the Blue River Recreation Trail.
Main Street is also a good place to go if you're running low on energy due to the altitude. The O2 Lounge provides a great pick-me-up with a dose of oxygen, which can aid with altitude sickness symptoms.
Trails to Hike
Although Breckenridge is best known for its winter sports after the snow melts, the hiking trails emerge, and they are not to be missed. Breckenridge, surrounded by mountains, is one of the most picturesque (and photogenic) hiking destinations in the country. The mountain views, combined with an unending sea of green woods, alpine lakes, rivers, and meadows, provide a diverse range of hiking opportunities. It will be difficult to become bored.
Breckenridge also includes hiking routes for all skill levels. You will be able to push yourself as far as you\'re ready to go, from the moderate Hoosier Pass Loop that goes along a rocky top to more strenuous hikes like Quandary Peak (which has a 3,100-foot elevation rise).
Learn more about the three winter activities to get the best out of winter adventures in Colorado.
Take in the scenic views
The enormous grandeur of Blue Lakes is a must-see for anybody visiting Breckenridge. These are two of Colorado's most beautiful alpine lakes, with beautiful hiking trails suitable for hikers of all abilities. Expect snowcapped peaks, lush green forests, sapphire-colored lakes, and a smattering of wild mountain goats on the slate-colored hillsides. The Blue Lakes Trail is a short, easy hike of fewer than three miles and 1,131 feet of elevation gain.
The trail is above the forest line and leads to a historic area of the region brimming with relics of Breck\'s mining past. Take a look at Bakers Tank on your way up to the summit, which provided water for the steam engine back in the day. When you reach the summit, take a break at the renovated Section House, which serves as a ski chalet in the winter. The Continental Divide, which separates the nation's waterways, is located at the top of Boreas Pass.
Drive-up the Boreas Pass Road
Breckenridge offers unparalleled vistas. Drive-up Boreas Pass Road, a former train line that has been converted to a road for automotive traffic. Boreas Pass is a high mountain pass (in the Rocky Mountains) located 11,481 feet high along the Continental Divide. The pass was famous as the Breckenridge Pass amid Colorado's gold rush.
The pass was later used as a constricted railroad route and wagon, and it is now a regular scenic excursion. Tourists can witness the ruins of the Boreas Station, formerly stationed at the pass's peak. Bike riders frequent the route, and winter sports aficionados make the Section House their home base.
Breckenridge is home to plenty of activities, you'll never run out of things to do when you are in Breck. Once you will make up your mind, we will make your trip worthwhile with the best shuttle services. Fresh Tracks Transportation offers Fresh Tracks Shuttles (in your case Denver Airport to Breckenridge Shuttles).
We offer the safest and most affordable Summit county shuttles. Be it our Denver Airport Shuttles, airport shuttles to Breckenridge, or Denver to Summit county shuttles, our services won't disappoint you. Our Colorado Shuttle services are unmatchable, so register your slot today before someone else does.