Vail is a prominent winter resort for skiing and snowboarding, located in the Gore Range of Colorado's Rocky Mountains about 100 miles west of Denver. Even though Vail Ski Resort and nearby Beaver Creek Resort draw visitors from all over the world during the cold and snowy months of the year, Vail's deluxe hotels, luxurious spas, fine-dining restaurants, manicured golf courses, and rugged hiking trails ensure that there's something to do in this mountain town all year.
Vail, Colorado, is the perfect adventure destination in the winter, spring, summer, and fall. Immerse yourself in a stunning place surrounded by nature's splendors. Best time to visit Vail Valley, depends on how you want to spend your vacations as it has everything from skiing and snowboarding to hiking and mountain biking.
Vail Valley is a skier's paradise and one of the most popular ski resorts in the United States. Fall, Vail's shortest experience season, may, nonetheless, be its best-kept secret. Vail Village offers the ideal fall getaway, with outdoor adventure, leisure, crisp weather, wonderful leaf-peeping, and great food and wine.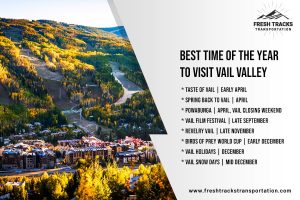 Exciting Events to Enjoy in Vail
Enjoy Winter with Ski Shuttles in Vail
Winter is often regarded as the greatest time to visit Vail, Colorado because it is the peak ski and snowboarding season. Even in the winter, bright skies and sunshine abound in this corner of the world, which averages over 300 sunny days each year.
Heavy snowstorms are also possible at any moment, and they can dump a few feet of the fluffy stuff in only a few hours. During the winter, Vail may be extremely chilly. The average winter daytime temperature is in the 20s or low 30s, with nights nearly usually being colder.
You're probably already aware of Vail's reputation as a top ski and snowboarding destination. Aside from these famous winter sports, there are plenty of other ways to have fun in the snow, such as snowmobile tours, dog sledding excursions, sleigh ride meals, ice climbing, snowshoeing, and so much more! On the slopes, the fun doesn't stop!
Guests and locals alike enjoy gathering and celebrating even in the winter months. The following are some of the season's most popular events:
Taste of Vail | Early April
Spring Back to Vail | April
Powabunga | April, Vail closing weekend
Vail Film Festival | Late September
Revelry Vail | Late November
Birds of Prey World Cup | Early December
Vail Holidays | December
Vail Snow Days | Mid December
Spring Activities in Vail | Best Time to Visit Vail Valley
According to some, the greatest time to visit Vail Colorado is in the spring. Heavy snowfalls are known to occur throughout this season, although even on normal days, skiing and snowboarding are still enjoyable. The worry of extreme cold is mostly gone, and since daytime temperatures may easily reach the 40s or 50s with plenty of sunlight, you can ski in shorts or a bikini on certain days if you want to.
One of the pleasures of spring skiing is kicking back and basking in the sun's warm rays while sipping a refreshing beverage at one of the on-mountain lodges.
Summer In Vail Valley
Some people believe that the greatest time to visit Vail Colorado is during the summer. This is due to a variety of factors. One of them is a long list of summer activities. The calendar is filled with live music events as soon as the city thaws – between late June and September, there's a show practically every night of the week, and many are free.
The Gerald R. Ford Amphitheater, Vail's most picturesque venue, hosts the Bravo! Music Festival, which showcases world-renowned orchestras. From June to September, the Vail Jazz Festival offers outstanding artists from around the world. The Summer Bluegrass Series is completely free in June and July, and the three-day Bonfire Block Party in early June has three stages with live music on the streets of Eagle.
Summers in Vail may be extremely hot. The midday temperature will be approximately 80 degrees on average. At night, the temperature drops significantly. The threat of snow does not go away during the summer, despite how uncommon it is. During the summer, Vail has a lot of short-lived afternoon thunderstorms.
Nonetheless, Christmas and New Year are the best occasions to visit the Vail Valley, learn more about what to expect in Vail in this blog.
Fall Time in Vail, Colorado | Best Time to Visit Vail Valley
Fall is certainly not the best season to visit Vail. That isn't to suggest, though, that this season is without worth. When the Aspen leaves change to gold, for example, the scenery is breathtaking, and many autumn days can be spent enjoying fun activities like fishing and golfing. Some of the best fly-fishing in the country can be found in the Vail Valley.
While it's a year-round pastime, the fall season (September to early November) is one of the best since the weather is still pleasant, the flows are normally low and clean, the crowds are few, and the trout are plentiful. Early October, on the other hand, sees typical daytime temperatures in the 40s and 50s, lowering the risk of frost.
Looking for Reliable Ski Shuttle Services in Vail?
Perhaps you're looking for a comfortable après-ski dining spot this winter. In the summer, you could be in the spirit for a lighter and pleasant supper. Regardless, there are still plenty of dining options all year. You can visit Vail at any time of year, depending on your mood and the activities you want to participate in.
Well, do let us know when you decide because Fresh Tracks Transportation offers Breckenridge to Vail Shuttles to take you to this favorite spot. Fresh Tracks Shuttles offers the best Shuttle Services in Colorado.
Fresh Tracks Transportation provides premium Vail shuttle service to cater to the need of visitors. With our professional drivers, you have nothing to worry about. Whether you are looking for Ski Shuttles to Vail, Charter Shuttles in Vail, or Shared Ride Shuttle (airport shuttles to Vail), Fresh Tracks Transportation is the best choice. So, make a reservation with us and let us take you on this experience during your chosen season.