Copper Mountain, CO, like other Summit County municipalities, is famous for its skiing. In Copper, there are three main base villages. Each offers a diverse selection of shopping, dining, housing, and recreational opportunities. The community is located on the western edge of Summit County at an elevation of 9,695 feet. Copper has always been a popular Colorado ski resort, because of its large area and proximity to Denver.
It is not as flashy as its Vail-owned contemporaries, but if you're looking for the varied, high-alpine terrain that Colorado is known for, Copper won't let you down. Copper has excellent snow quality, with accumulation comparable to the greatest Colorado ski destinations. Trails benefit from the thick cover and a range of powder.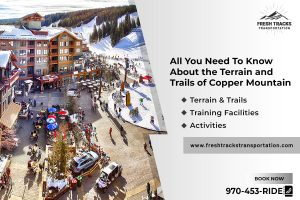 While wind gusts in high-alpine areas might be strong, snow tends to stay put; in fact, wind-blown snow routinely brings light, deep powder to some bowl areas. A few more difficult runs keep low cover or exposed elements throughout the season, but that's to be anticipated in the terrain of this level.
Copper Mountain Terrain
Copper Mountain deliberately touts its naturally divided terrain as a selling advantage. Copper's supporters say it provides a fantastic experience for everyone from beginners to seasoned powder hounds. Beginners can safely explore without fear of missing a turn and ending up in terrain beyond their ability, and experts can get on with their work without having to worry about rookies still working on their snowplows!
The resort's terrain diversity is also a strong suit—it offers a wide range of terrain for all skill levels. Unlike some resorts, courses of equal complexity are often close to each other, providing natural insulation for skiers of various abilities. In general, as you move from west to east on the mountain, the runs become more difficult, with the rear portions providing the most challenging terrain. Copper, unlike some Colorado resorts, has a wide range of beginner terrain.
Stick to the skier's left of Center Village for plenty of green runs—the West Village areas have specialized learning terrain, while the American Flyer lift serves mild (but quite lengthy) groomed cruisers. Even though it's served by the slow, wind-exposed Rendezvous lift, there's some high-alpine novice terrain. A small bunny hill is also located near Center Village.
Copper is a great place for experienced skiers and riders. Short, steep pitches dominate black runs in high alpine locations, although long, challenging mogul runs can be found in the lower-level Alpine and Resolution sections. Even in lower mountain places regarded for milder slopes, the heavily wooded glades off the green and blue cruisers prove tough trials.
Cooper Mountain Trails
Cliffs or rocks are present on many double black runs. West Ridge, the mountain's most extreme section, requires a cornice to enter, maintains a steep pitch, and has difficult cliff-riddled lines. Copper has always had a good selection of expert terrain, but the Three Bears lift has probably altered the resort.
Previously, access to this terrain required a weather-dependent snowcat trip and a trek, but now the resort provides direct lift service to steep, tricky tree and bowl terrain that few other Colorado resorts can match. Although some will regret the actual remoteness of the pre-lift days here, the great views and seclusion in this location contribute to the experience.
Even if you're a seasoned skier or hiker, the altitude in Copper's terrain may cause you to struggle unexpectedly. The resort has one of the highest base altitudes in North America, at 9,600 feet. Furthermore, the resort reaches a height of almost 12,400 feet, which is several thousand feet higher than the highest terrain on many competing mountains. Before attempting anything, make sure to exercise extreme caution.
Looking for more options to enjoy the winter season in Copper mountain, Colorado. Read this blog to get more information about it.
Training Facilities
Copper Mountain is the real deal for riders seeking a challenge, having hosted World Cup tours, championship races, and is also the favored training destination for the US downhill ski team, owing to its training facilities. Woodward Camp, which debuted in 2009, is a 20,000-square-foot terrain park and pipe progression facility.
The space is for safety by providing appropriate environments for all types of skiers and snowboarders. The Copper Mountain Ski & Ride School, which was originally staffed by Olympic medalist Putzi Frandl, is also remarkable. Everyone is welcome to attend the school's sessions, which range from adult group lessons to youth group lessons to competition and training programs.
Activities
If skiing and snowboarding aren't your things, Copper Mountain offers a variety of other activities to keep you entertained. Ice skating, snowshoeing, tubing, snowmobiling, sleigh rides, dog sledding, spa facilities, shopping, and, of course, fantastic dining options are all available in the winter.
Copper is a terrific escape for a quick weekend trip or an extended stay with the entire family, with plenty of restaurants, surrounding stores, and other mountain town attractions.
With hundreds of acres of stunning skiable terrain, daring climbs, and 300 inches of yearly snowfall Colorado is a ski destination you cannot miss at any cost. When planning the ideal Copper Colorado vacation, don't forget to have your equipment ahead of time.
Whether you're a beginner or a seasoned skier or a snowboarder, Copper Mountain is the ideal spot to hone your abilities. The west side of the mountain is for novices, and the terrain becomes more challenging as you head east. Make your trip to Copper Mountain the best it can be by following the beginner recommendations.
Fresh Tracks Transportation is here to make your trip to Copper Mountain the best it can be now that you've opted to explore these tracks. Fresh Tracks Shuttles are the best Ski Shuttles in Colorado. Our Colorado Shuttle services will leave you more than delighted. Either you require Denver Airport to Copper Mountain Shuttles (airport shuttles to Copper Mountain) or Denver to Summit County Shuttles.
Schedule our Denver Airport Shuttles so we will pick you up from the airport and ready to tour in our Summit County shuttles. We're here to make your trip to Copper Mountain one to remember!