Colorado is a beautiful place with scenic views and fun activities all around. This is true many people head here for skiing, but don't forget it offers fun summer activities with a top-notch experience as well. The weather report for a summer holiday in Colorado anticipates beautiful blue sky throughout the day and cool evenings at all elevations. Take advantage of Colorado's pleasant weather by getting outside and experiencing every region of the state, where summer activities abound.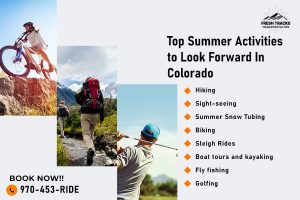 Exciting Summer Activities
Hiking

Whether you're looking for a "Summit or Bust" climb up the steep slope of a fourteener or a leisurely Creekside stroll, Colorado has hundreds of miles of trails to choose from. You can choose from a plethora of summer activities in Colorado, each activity has it's one unique blend of fun, thrill and excitement.
Paths through wildflower-strewn meadows, treks amid rocks and canyons to ancient people's petroglyphs, trips through swaying grasslands that haven't altered since pioneers first set foot in there, hundreds of years ago, walks that lead to gushing waterfalls, and so many more.
Now that you're thinking about hiking, we recommend hiking in Breckenridge, especially if you\'re a beginner, and hiking in Keystone this summer to take in all of the picturesque paths!
Sight-seeing | Summer Activities in Colorado

Breckenridge Adventure Park offers fun activities and is a great way to take in the views. The Breckenridge alpine slide and alpine roller coaster are thrilling for both young and old adventure seekers! The Breckenridge alpine slide is unlike any other. You'll ride down the slopes on a cart while taking in the scenery. Young children should be accompanied by their parents, while older children should be allowed to travel on their own. If you want to fly down the mountain at breakneck speed, the roller coaster is for you!
Summer Snow Tubing

Keystone has stored some winter excitement for a wonderful summer excursion! This is Colorado\'s only summer tubing facility on actual snow, and it's a must-do activity. Summer tubing is available only at Keystone. It's topped off with spectacular views from 11,640′ and a magical carpet that transports you back to the top of the hill for a run after run, whether you're a youngster or simply a kid in the heart. While enjoying your summer weather and ice Lollie's, take in the surrounding magnificent vistas. This is a one-of-a-kind memory-making event.
Biking

Dozens of miles of scenic single-track and paved bike lanes wind through Summit County\'s designated national forest lands. Irrespective of your skillset, this is a terrific way of enjoying the great outdoors. Pure air and magnificent views of massive mountains, a sea of wildflowers, and lush woods can completely change your life.
Bike paths abound in the state that pioneered mountain biking and hosts dozens of endurances and high-altitude road cycling contests each year. For the more casual peddler, there are hundreds of miles of paved, flat routes, as well as outfitters around the state who can provide all of the necessary gear for a two-wheel adventure.
Sleigh Rides

Don't forget to incorporate this one-of-a-kind experience into your Colorado schedule. No one beats Frisco when it comes to sleigh rides. Two Below Zero should be on your list of things to do in Frisco if you want to appreciate the Rocky Mountain scenery. This location will provide you with an unforgettable sleigh ride along the Frisco Peninsula.
Because a private sleigh ride will be ready for individuals going with their family and friends, this is the finest option. The breathtaking view of the night sky will wow you at night. You will have a clearer view of the snow-capped mountains in the morning, which will be enhanced by the sunlight. Two Below Zero's famed hot chocolate is a must-have for your one-of-a-kind experience. This will elevate your experience.
Boat tours and Kayaking

Although Colorado is a landlocked state, it does have shorelines. Traveling through mountain basins and deep, blue-water oases on the wide-open plains, boaters find comfort on hundreds of acres of boat-worthy water. As you glide through Colorado's lakes and reservoirs, tow a water skier or tuber, or simply enjoy the breeze on your face.
If you are fond of water activities and fun, then Boat tours and Kayaking will become your favorite summer activities in Colorado for sure. Sailing lessons at Lake Dillon are available during the summer for adults 18 and older in groups of 2-5 people.
Once you've completed a lesson, you'll be able to cross sailing off your bucket list! The Dillon Marina, of course, offers boat excursions and rentals, as well as kayaking and stand-up paddle boarding.
Fly Fishing | Popular summer activities in Colorado
Fly fishing is a type of angling in which an artificial fly or lure is used. If you want to attempt this hobby, Silverthorne is the place to go (although hiking in Silverthorne is also popular), as there are fishing stores all around town that offer guided fishing trips. Cutthroat Anglers, for example, can be found on Blue River Parkway.
Colorado Parks and Wildlife, as well as the Bureau of Land Management, have issued the licenses. Each excursion is accompanied by a professional guide, and there are numerous programs available based on one's skill level. Taking a guided fishing trip may teach you the fundamentals of fly casting, how to read the waters, and how to use the fly effectively, to name a few things.
Find your favorite activity in Summit County and plan your trip by reading this blog.
Golfing

At Colorado's high altitude, where the airflow is light and dry, everyone's golf ball flies much further and better. A few of the reasons the state lures so many golfers seem to be this. When you combine year-round recreation — in some regions, you can even go from the ski slopes to the green in one day — with only-in-Colorado scenery, you'll find plenty of other reasons.
Several companies provide bundled golf trips that allow you to sample a variety of various courses throughout the state. This list of summer activities in Colorado is merely the tip of the iceberg. If you combine any of those holiday ideas with horseback riding, motorbike touring, kayaking, or whitewater rafting, you'll have a summer vacation in heaven in Colorado.
Book your ride with Fresh Tracks Transportation if you are planning a trip to Colorado for a full summer experience. If you have decided to visit the Breckenridge trails, we provide Denver airport to Breckenridge shuttles. We also provide private airport shuttles to Breckenridge for those arriving by plane. So, make a reservation with us to have a great summer in Colorado this year!