Every year, a large number of tourists head to Colorado to be enchanted by the state's natural beauty, breathtaking views, and, of course, snowy terrain. Tourists will love to visit the centennial state, and spend a special weekend in Keystone
What better way to get a taste of everything than to travel to Keystone, Colorado. This family-friendly resort town is less than 90 minutes from Denver and provides a variety of outdoor activities, including some of the greatest skiing in the state right in its backyard.
Keystone is a popular year-round refuge for front-rangers and out-of-staters since it is an affordable alpine resort. Whether you're visiting Colorado to kick back and relax, seek adventure and epinephrine, or simply admire the state's natural beauty, Keystone will undoubtedly be the perfect destination for you!
Summit County shines brightly with its various recreation activities no matter what time of year it is. With these year-round adventures in Keystone, you may visit at any time. Here are just a few of the things to do in Keystone.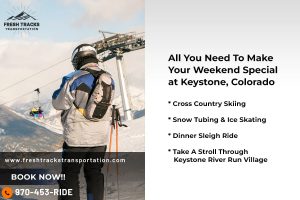 Skiing | Special Weekend in Keystone
This one is self-evident. If you've come to Keystone, odds are you're here to ski. Within Summit County, Keystone Resort is well-known for having the most skiable terrain. You can ski terrain parks, bumps, steeps, bowls, beginner zones, and more on 135 tracks.
Beginners will appreciate the easy slopes and learning zones, while intermediates will appreciate the many long cruises located on all three mountains.
Nearly half of Keystone's ski area is classed as most challenging, providing plenty of options for experienced skiers. If you're looking for deep powder and ideal bowl skiing, Keystone also provides snowcat trips for a little price. During various times of the year, Keystone offers night skiing.
This is a fantastic opportunity to ski beneath the stars and experiences the twinkling lights of the Keystone Ski Resort neighborhood below, with a bar and restaurant at the summit.
Cross Country Skiing
The Keystone Nordic Center is where cross-country skiing and snowshoeing start. There are nine miles of well-kept trails waiting to be explored by your adventurous spirit. Ski and snowshoe rentals, lessons, and guided tours are all available at the Keystone Nordic Center.
Ladies' Days, Mountain Top Treks, and Snowshoe Eco Hikes are just a few of the special activities to keep an eye out for. If you are hungry, the Nordic Soup Bistro offers an all-you-can-eat soup buffet lunch as well as a menu of delectable delicacies.
Snow Tubing & Ice Skating
If the idea of cruising down the mountain on a tube appeals to you, Keystones Adventure Point Tubing Hill is the place to be. This is a terrific outdoor pastime for all skill levels because there are six lanes to pick from, each with a different slope level.
Keystone Lake Ice Rink, with its five acres of ice, is a popular winter destination for ice skaters of all levels. Figure skaters, free skaters, and ice hockey players can all be found here.
Dercum Square Ice Rink, located in River Run Village, is open seven days a week for individuals searching for a free option. This man-made 7,200 square foot rink offers day and night skating, as well as onsite rentals.
Looking for some more exciting ways to kill of your boredom in Colorado, make your travels by following this list of thrilling activities.
Dinner Sleigh Ride
The supper sleigh ride at Keystone is ideal for a romantic evening or a fun family adventure. The journey begins with customers boarding a large sleigh being hauled by a team of Percheron and Belgian horses.
You will be treated to a 15-minute sleigh ride beneath crystal blue skies, with the stars glittering overhead, while snuggled under wool blankets. Then, as you go over snow-covered pathways, your tour guides will tell you about the homestead's rich history.
A magnificent meal is provided inside the lovely farmhouse cabin upon arrival, complete with a crackling fire that sets the tone for this special event.
Take A Stroll Through Keystone River Run Village
If you don't care for skiing, we recommend taking a stroll through Keystone River Run Village. The Keystone River Run Village, sometimes known as the heart of Keystone Colorado, is located near the resort's base area. You'll be right in the middle of it all, with plenty of dining options, lodgings, boutique stores, and lakeside activities.
The gondola that takes you up the mountain and a shuttle that brings you back and forth from the airport are both within walking distance of River Run Village. Throughout the year, River Run Village hosts a variety of events.
The most popular festivals are the Keystone Wine and Jazz Festival, the Bluegrass and Beer Festival, Mardi Gras, and the Bacon and Bourbon Festival. Year-round, there are several street events, parades, and activities geared toward children.
Upcoming Events
Get excited because there are plenty of events awaiting your arrival at Keystone. All these events will make you spend and organize a special weekend in Keystone.
Keystone's Winter Bluegrass Weekend delivers acoustic roots and mountain culture to Warren Station. Warren Station will be rocking for two nights with an incredible roster that includes some of Colorado's best string bands.
Winter Wine Weekend | "For the Love of Wine, Whiskey, and Chocolate"
This is a trivia competition at an after-hours wine, whiskey, and chocolate party. A variety of Swiss chocolate delights, as well as whiskeys and wines, are available to sample.
Grand Tasting of Winter Wine Weekend 2022
The Winter Wine Grand Tasting at Keystone includes delectable food, wine, and spirits pairings. There is also live music in the area.
A popular favorite is returning! In this casual painting party, you can master the fundamentals of acrylic painting while enjoying a delicious beverage.
If you're not a skier, there are lots of other leisure activities to choose from. You can always unwind at the Keystone Spa and Salon or squeeze in some yoga or meditation at Salon K at the end of the day. Keystone is the ideal destination for any member of your visiting party.
The mountains are a lovely area to explore regardless of which city you visit. Keystone has something extra unique that always takes everyone by surprise. Last but not least, there is the matter of getting to Keystone.
You might wonder how to get to this magical town!!
Well Fresh Tracks Transportation is here to make this experience a delight for you. Fresh Tracks Shuttles provide pick and drop shuttle services to and from the Denver International Airport.
Our Keystone Shuttles include Keystone Airport Shuttles (that operates as DIA to Keystone shuttles and Keystone to DIA shuttles), Keystone wedding shuttle, and Ski shuttles to Keystone.
So, it's safe to say that now is the time to book this trip to Keystone that has been awaiting your arrival. So, hurry up and book your Fresh tracks Keystone Shuttles today. Get ready to discover this winter wonderland with us!