Colorado is the main tourist attraction in America with tourists visiting from all over the world. Its spectacular views, fresh weather, and climate conditions leave visitors speechless. Colorado is distinguished by its many climate types, which include tundra, subarctic, continental, humid subtropical, semi-arid, and cold deserts in different parts of the state.
Colorado's climate is chilly, dry, and refreshing due to its high elevation, midlatitude, and continental interior topography. The state's yearly average temperature is 43.5 degrees Fahrenheit (F), which is 13.7 degrees lower than the global average.
The average annual precipitation in the state is seventeen inches, far less than the global average of thirty-eight inches. There are substantial seasonal temperature changes as well as large day-to-night temperature differences.
Differences in elevation, and to a lesser extent, the orientation of mountain ranges and valleys to general air movements, have a significant impact on the local climate. Over small distances, large variances occur. Different parts of Colorado have distinct traits that are not shared throughout the state. Let's take a peek at the weather at some of Colorado's most popular tourist destinations.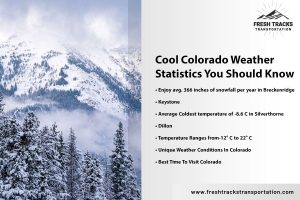 Colorado Weather Statistics
Breckenridge
Breckenridge weather is the best of both worlds, with 300 days of sunlight on average each year and 366 inches of snowfall per year. Expect endless powder days in the winter, followed by afternoon apres on the patio. Summers are mild, with temperatures ranging from the mid-70s to the mid-80s, making it ideal for days spent on the trail or by the pool with the whole crew.
Keystone
The continental climate prevails in Keystone. In the summer, it is hot, and in the winter, it is chilly. The average annual temperature of Keystone is 6°F, with an average annual rainfall of 489 mm. With an average humidity of 73 percent and a UV index of 2, it is dry for 139 days every year.
The greatest season to visit the Keystone ski region in Colorado is from June through September when temperatures are mild or pleasant and rainfall is low. The average temperature in Keystone ranges from 19°C in July to -6°C in December.
Silverthorne
The winter season in Silverthorne is marked by a long, extremely cold period with short, clear days, limited precipitation (mainly in the form of snow), and low humidity. In Silverthorne, the average annual temperature is 39.5°F (4.2°C). July is the warmest month, with an average temperature of 61.9°F (16.6°C). January is the coldest month, with an average temperature of 16.5°F (-8.6°C).
Dillon
On average, Dillon receives precipitation 128 days per year. Dillon has an average of 243 sunny days each year, and an average of 160 inches of snow each year. Whereas it receives an average of 20 inches of rain each year.
Frisco
Summers in Frisco are pleasant, winters are cold and snowy, and the weather is partially cloudy all year. The temperature normally ranges from 9°F to 71°F throughout the year, with temperatures rarely falling below -4°F or rising over 77°F.
Unique Weather Conditions in Colorado
If you live in Colorado, then you will be well aware of how unpredictable the weather can be?
Across the Front Range and into the heart of the Rockies, you'll find a diverse range of microclimates with vastly different weather patterns.
Most Coloradans regard the end of November to mark the start of winter because Colorado's fall never lasts long, and the first snowfall usually occurs in October or early November, ushering in colder, cloudy days. In addition, by December, the majority of the major ski resorts are open. Winter's end is also variable, with some years finishing in April and others ending in June or even July.
Best Time to Visit Colorado
Winter is one of the greatest times of year to visit Colorado Springs since days of snow are frequently followed by quick runoff, allowing for enjoyable outdoor activities while avoiding daily commute disruptions. Winter is also one of the most unpredictable seasons in Colorado. Weather patterns may change far quicker than forecasters can keep up with.
Nearly half of the month covered in clouds. Snowfall can occur at any period between December and late March (occasionally even into April, May, or June).
Well, you are now aware of the climate conditions before visiting any of these states. Worry not, because Fresh Tracks Transportation operates all year round to take you to your favorite places. Breckenridge, Vail, Beaver Creek, Keystone, Dillon, Frisco, Copper, Silverthorne, and even Arapahoe Basin are all served by Fresh Tracks Transportation Shuttles.
These towns are also served by our wedding shuttle service. Our Keystone shuttles, Breckenridge shuttles, Frisco shuttles, Dillon shuttles, and all other Summit County Shuttles are safe to travel and adhere to Covid SOPs. So, book with us and prepare to go on a vacation!