A Colorado winter vacation is unrivaled, with so many of the country's best ski resorts making it the nation's top ski and snowboard destination — and bluebird skies and piles of fresh, dry powder rule supreme as the lifts turn during ski season.
Ski resorts vary from high-end, international resorts with never-ending terrain to single-lift, family-run enterprises that transport skiers to skiable terrain and some of the best hike-to attractions in the country.
Enjoy Night Skiing at Keystone Ski Resort
Personal taste, skiing preferences, ability level, price, ease of location, and even the time of year you wish to ski in Colorado all play a role in choosing the perfect resort. Keystone Ski Resort is a large Summit County resort within an hour and 15 minutes from Denver. Despite having more skiable terrain, neighboring resort Breckenridge often eclipses Keystone in popularity.
Don't worry about missing out on the best night skiing in Colorado; it's available most weekends and holidays. Aside from skiing, Keystone provides a variety of other winter activities, such as cross-country skiing and a horse-drawn stagecoach ride. Travel conveniently to your favorite resort with Fresh Tracks Ski Shuttles to Keystone.
Get Ready for Longest Skiing Day at Keystone Resort
Keystone has a peak elevation of 12,408 feet and a base elevation of 9,280 feet, has 3,148 acres of skiable terrain, and even night skiing. Keystone Resort offers Colorado's longest skiing day! Snow tubing, dining, shopping, sleigh rides, ice skating, and even snow biking are just a few of the activities available at Keystone. Explore the enormous snow fort in the snow tubing area for kids and adults alike.
Families could also take advantage of Keystone's Kidtopia, a free program with specific events and activities for children. Keystone's hotel options are among the handiest for those looking to get on the slopes as soon as possible!
River Run Village is bordered by condos and lodging options, all of which provide ample locker and storage space for ski equipment. Alternatively, you can hire all your boots, skis, helmets, and boards from a rental store.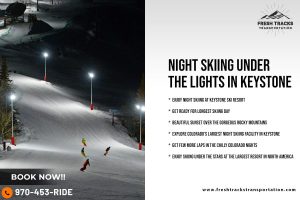 Night Skiing under lights in Keystone
Beautiful Sunset Over the Gorgeous Rocky Mountains
One of the best aspects of choosing Keystone as your mountain of choice is the opportunity to ski at night! Your Keystone lift ticket is valid from opening to closing and includes night skiing at no additional cost, making it the best value in Colorado lift tickets.
You can ski or ride after practically all of the other mountains have closed for the day. While getting in a few more runs and stopping in for a cup of hot chocolate to warm up in between laps, watch the sunset over the gorgeous Rocky Mountains.
Since Thanksgiving, night skiing has been available at Keystone Ski Resort. With certain ski day lifts open for nearly 12 hours, Keystone Resort is one of the only resorts in Colorado that offers night skiing. Which means you receive the best value for your lift tickets. Night skiing is offered on a varied schedule, often Wednesday – Sunday nights until March and then every night from 7th March – 1st April.
Explore Colorado's Largest Night Skiing Facility in Keystone
Keystone is a popular ski resort because of its fun, undulating terrain, and plenty of vertical. The runs from the top to the bottom cover over 2000 feet of elevation, with enough steeps and a few easy switchbacks to suit all skill levels. Just because the sun sets don't mean your mountain adventure is done!
With 243 acres of skiable terrain plus elements of the A51 terrain park, Keystone is Colorado\'s largest night skiing facility. Keystone Resort boasts an astounding quantity of vertical and well-lit land to keep the excitement going. At the top, there's also a bar and restaurant. If you want to loosen up, have a beer at 12,000 feet. Also, drink some water.
River Run Gondola and, on occasion, Peru Express chair lift provide access to the mountain\'s summit. In addition, there are several lighted night skiing alternatives down the face from the summit, as well as another chair lift or two to keep you at the top.
Get Few More Laps in The Chilly Colorado Nights
The long, sweeping slopes of Keystone's Dercum Mountain begin to spark each day differently as the sunsets. The transformation begins around 3 p.m. when several hundred strong metal-vapor halide floodlights turn on. Keystone's runs begin to look more like a prominent constellation sitting on the eastern horizon of the county as the evening progresses and the lights grow more conspicuous.
Almost every other lift in Colorado stops turning by 4:30 p.m., yet five of Keystone's lifts keep going until 8 p.m. every Wednesday through Sunday. While light poles can be as common as lift towers in other parts of the country, this is not the case in Summit County or almost anywhere else.
Looking for a list of activities to enjoy perfect weekend getaway in Keystone? Follow this blog to find your favorite activities.
Enjoy Skiing Under the Stars at The Largest Resort in North America
Even though Keystone has the most night skiing in the state, it is not the only resort where you can ride under the stars, but it is unquestionably the largest and best in North America. So, wrap up warm and prepare to take in the sunset from atop one of the Rocky Mountains. Book your ride with Fresh Tracks Transportation's Ski Shuttles to Keystone and experience outstanding night skiing fun this season. Fresh Tracks Shuttles are the best ski shuttles in Colorado.
Moreover, our Denver Airport Shuttles will be awaiting your arrival, and airport shuttles to Keystone will drop you off at your destination. So, book our Summit County shuttles or Denver to Summit County shuttles to get the best Colorado Shuttle services. Let us make your trip to Colorado extra special by taking care of the transportation services so that you can fully enjoy your trip.