If you've never visited Colorado, you're missing out on some of the country's most beautiful and stunning views. Colorado winters offer a fantastic opportunity for tourists to enjoy snowy weather and natural beauty altogether. Though every season let you witness the true beauty of this amazing state, but winter season in Colorado is the sight to experience.
Colorado has more than enough natural beauty for one person to discover in a lifetime, whether it's skiing or visiting the wide spectrum of natural treasures from underground caves to the tallest mountains in the US.
Colorado has its own collection of natural wonders. These stunning retreats stand out as some of the state's most popular tourism and trekking sites. Here are some of the top attractions in Colorado that you would never like to miss.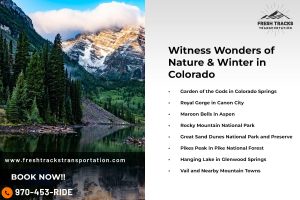 Wonders of Nature in Colorado
Garden of the Gods in Colorado Springs
Garden of the Gods' red rock formations is unlike anything you've ever seen. This park, which is located in Colorado Springs, is as beautiful as its name suggests. Garden of the Gods, the region's most popular attraction, is a must-see for everyone who enjoys breathtaking landscapes with a rich history.
There's a simple, free driving tour through the park, as well as free parking at several spots to check out the sights. Take a trolley or jeep tour, or simply stop by their glass-enclosed cafe for a bite to eat. There's also rock climbing and several hiking trails to choose from.
Royal Gorge in Canon City
Royal Gorge Bridge and Park is located outside of Colorado Springs. Zip line through the canyon or float down the Arkansas River that runs through it. The highest suspension bridge in America is located in Royal Gorge, providing a beautiful trek unlike any other.
Spend the night at Bighorn Mountaintop Lodge if you can't get enough of the Gorge and wake up to a panoramic vista of the mountains. What more would you want?
Maroon Bells in Aspen
Maroon Peak and North Maroon Peak, Colorado's most photographed locations, are among the world's most stunning mountains. Take a beautiful trek on one of their numerous routes or come in the winter and try cross-country skiing for the first time. If you're not up to it, hire a professional to take you on a snowmobile tour of the area. It's a once-in-a-lifetime opportunity!
Rocky Mountain National Park
A spectacular alpine panorama of snow-capped peaks and vivid glacial basins may be seen in Colorado's Rocky Mountain National Park. The Continental Divide is one of the key attractions. Rain falling on one side of the ridge will end up in the Pacific, while rain falling on the other side will begin a long trek to the Atlantic.
Great Sand Dunes National Park and Preserve
This park features the country's tallest sand dunes, making it an unusual sight in Colorado. If you've never tried sand sledding before, it should be the first thing you do when visiting the Great Sand Dunes. Spend more time interacting with the history of this magnificent jewel by taking a day trip or camping at the park overnight. Stargazing at the Great Sand Dunes is a once-in-a-lifetime opportunity.
Find out some useful tips to plan your memorable trip for a holiday ski vacation in Colorado.
Pikes Peak in Pike National Forest
Pikes Peak is the second-most-visited mountain in the world. On the Pikes Peak Highway, off-highway 24, west of Colorado Springs, you may drive to the summit of Pikes Peak, unlike many other mountain summits that are unreachable to the common person.
The location offers several recreational activities in addition to simply admiring the views from the summit. There are various mountain biking places, reservoir fishing options, and hiking paths in the area.
Hanging Lake in Glenwood Springs
Hanging Lake, one of the most popular hiking destinations in the state, is sometimes overlooked in favor of the other places, although it is probably one of the most beautiful. The grandeur of the waterfalls and crystal-clear lake in Glenwood Canyon is unlike any other waterfall in the country.
The grandeur of Hanging Lake, as well as all of Colorado's natural treasures, will enchant you. You'll need to be able to trek uphill for an hour to reach the three waterfalls.
Vail and Nearby Mountain Towns
Vail, Colorado's ski resort town, is among the popular places to visit in the winter, but it's also a nice place to explore year-round. This is one of the top ski resorts in Colorado, with seemingly endless runs for skiers of all abilities.
The ski hill's base village is picture-perfect, with chalet-style restaurants, shops, and hotels transporting you to the heart of the Alps. This is a high-end resort featuring five-star hotels, excellent cuisine, and high-end shopping.
Frisco
Frisco is a picturesque mountain town and one of the nicest places to visit in the area, even though it is not a ski resort. The town offers a true mountain vibe, with a variety of unique cafés, boutiques, and restaurants.
Breckenridge
Breckenridge is a small town and ski resort lies just up the road. If you plan on skiing, Breckenridge has a toned and fun downtown if you intend on skiing or searching for a little nightlife. Winter season in Colorado is the perfect time for visitors to visit this awesome destination for great fun.
Colorado is a year-round destination with breathtaking scenery and natural beauty that enthralls the senses and inspires the soul. The scenery is stunning. Mountain towns attract a wide range of outdoor enthusiasts, including skiers, hikers, climbers, mountain bikers, and other types of outdoor enthusiasts, but they're also great places to relax and take in the view. Colorado is an incredible area that will make you reassess your future travel plans.
You can start planning your trip with our list of the best places to visit in Colorado. Fresh Tracks Transportation provides the best airport shuttles so that you can enjoy your winter in Colorado. Fresh Tracks Shuttles operate from Denver International Airport and take you to your desired towns.
Our Shuttle service is one of the best in Colorado, providing you with the smoothest and safest Colorado Shuttle services. So book with us right now, or do you need more convincing? Visit our website for more details.