When it comes to hiking, Breckenridge provides. All of this is tucked in the middle of the spectacular Rocky Mountains, with tumbling waterfalls, apparently endless meadows of wildflowers, and tranquil alpine lakes. While Breckenridge is most known for its winter sports and activities, the town also offers a variety of fantastic walks in the spring, summer, and fall.
Beautiful mountain views combine with kilometers of evergreen forests to create a network of exceptionally scenic hiking trails suitable for hikers of all abilities. If you're looking for a place to go hiking in Breckenridge, you have a lot of possibilities. We've put together this list of our top Breckenridge hikes to help you plan your outdoor experiences in the area.
Anyone who enjoys walking should be able to complete a simple hike. The trail will be generally flat or rise slightly. In most cases, less than 3 miles. When you just have a short amount of time to hike, have children or non-hikers with you, or just want to relax in nature, easy hikes are ideal.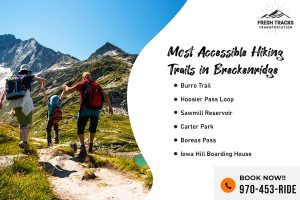 Breckenridge Top Hiking Trails
Enjoy A Lovely Climb Through The Wood in Burro Trail
The Burro Trail, one of the area's most popular walks, is one of Breckenridge's must-do activities. It's a laid-back region that's excellent for a walk with your dog or a group hike, with a leisurely 6.1-mile out-and-back track that weaves through forests, along creeks and waterfalls, and through rocky places. Hike the Burro Trail in an out-and-back fashion for as long (or as little) as you like.
It only takes five or ten minutes to feel like you've traveled thousands of miles. The Burro route connects to a huge network of wilderness hiking trails and is an excellent alternative for anyone staying at one of the many Village Road residences.
Because this trail is one of Breckenridge's most accessible and popular hiking spots, it can get rather crowded on weekends and later in the day. The Burro route is accessible from the bottom of the Lehman ski trail, which is located off Village Road at the base of Peak 9 in Breckenridge. The trail is accessible by foot or bike from downtown, but it is also part of the Breckenridge Free Ride's yellow route.
Hike The High Elevation Mountain
Hoosier Pass Loop is one of the top hikes in Breckenridge for magnificent mountain vistas on an easy to moderate track. This trip traverses the Continental Divide and features a 2.8-mile gravel road that reaches a rocky mountain above the tree line. It's great for hikers of all levels.
If you go after sunset, you will be able to see the sun's last golden rays illuminate the adjacent peaks. It's worth noting that the first half of the trail is a steady climb, so sturdy shoes are required. However, after you reach the pass, you'll be rewarded with breathtaking vistas and smooth descent. Fresh Tracks provides you Airport shuttle services to visit the best Hiking trails in Breckenridge.
Hike The Scenic Loop Trail at Sawmill Reservoir
Sawmill Reservoir is an excellent place to go if you're looking for a short, easy, and scenic hike. The walk begins in the woods and then winds around the picturesque Sawmill Reservoir, where you can see many anglers casting their lines along the crystal waterfront. While the lake is usually packed, it wasn't too crowded when we hiked here in the late afternoon, just as the sun began to sink low over the horizon.
To reach the reservoir, the trail is mostly flat with a few gentle inclines. The trail's proximity to downtown Breckenridge is one of its best features. To get to the base of the Snowflake lift, walk up Four O'clock Road or take the Breckenridge Free Ride Yellow Route. Follow the signs to the path from there.
Fun & Excitement Awaits You at Carter Park
This short stroll leads uphill from Carter Park, which includes a dog park, pavilion, tennis courts, and other amenities. At the summit of the steps, you'll be rewarded with panoramic views of the Tenmile Range and Breckenridge Ski Resort. Because the distance to the top is easy to calculate in yards rather than miles, this is a wonderful alternative for those who are short on time.
If this short hike isn't enough, continue south on the Hermit Placer Trail and loop back through Jack's Cruel Joke (be careful, it's steep!) and Sunbeam. Carter Park is one of several popular municipal trailheads that allow access to a broad network of town and county trails. The park is also accessible by the Breckenridge Free Ride's purple route, which may be walked or biked from downtown.
Enjoy Breathtaking Views at The Boreas Pass
Boreas Pass is one of the most accessible tracks in Breckenridge for all levels of hikers. Enjoy stunning views of the town center and ski slopes in a short, easy hike. We recommend this hike to novices and solo hikers because it has cell coverage for most of the hike. Moreover, half of hike around it is of shared dirt road with bikes and cars, so you'll never be too far from civilization. The vistas from the highest spots of the hike, on the other hand, are truly breathtaking.
The vistas from this hike are breathtaking. Second, the trail is well-maintained and usually shady. Finally, you can climb a few rocky outcroppings for better views. As a result, we highly recommend trekking this easily accessible track.
Don't Miss Out to Visit Iowa Hill Boarding House
The Iowa Hill Loop is a lovely stroll through a placer mine site from the 1800s, complete with interpretative markers. A handful of short side trails lead to the old boarding house and some fascinating maintained mining apparatus. This is a good shorter path for families or anyone visiting the area who wants to observe how mining was done a century ago.
All you really need is a shuttle ride to get to Breckenridge's top trails. Many of the trailheads are only a short distance from the city center. So don't forget to book Fresh Tracks Transportation when you are in town for a hike. You can explore the Hiking trails in Breckenridge with our Breckenridge shuttles.
You can also book our airport shuttles if you need a ride from the airport to any of the towns in Summit County. Moreover, you can book rides DIA to Breckenridge shuttles if you are heading for hiking in Breckenridge. Regardless, Fresh Tracks Shuttles are at your service. So book with us and prepare to have a great day exploring the trails!
Fond of hiking!! Check out more options to find the best hiking trail in Colorado.