Residents of Colorado, particularly in Summit County, excel at celebrating the outdoors. Whether it's your first, second, or tenth visit, there's always something to keep the whole family entertained. The Rockies are waiting for you whether it's winter, summer, spring, or fall. Summit County, Colorado, offers a diverse range of activities and events throughout the year!
Summit County festivals have a significant effect on the population because they bring people together from around the country to celebrate and enjoy the mountains.
Not only are these events entertaining, but many of them help worthwhile NGOs and local causes. Every town in Summit County hosts incredible events for our community. Breckenridge hosts a variety of festivals, concerts, and events that are unlike any other. Frisco has several popular local events, whereas Keystone organizes several well-known festivals and entertaining performances.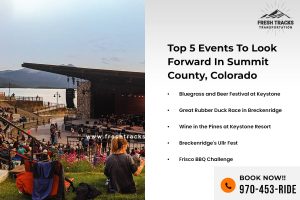 Enjoy Top Events in Summit County Colorado
Bluegrass and Beer Festival at Keystone
In August, in Keystone, Colorado, this event attracts all that together we love about Colorado. This year marks the 25th anniversary of the Bluegrass and Beer Festival, which takes place over two days in Summit County. This weekend festival showcases up-and-coming bluegrass bands as well as well-known favorites, as well as craft beer from some of the country's best breweries. Beer sampling, sunshine, and dancing are all on the agenda.
The annual Keystone Bluegrass and Beer Festival, which began in 1996, is jam-packed with craft beers and mountain music. Over a dozen regional and national bluegrass musicians are expected to entertain the crowds on three distinct village stages. Join the throngs of fans who have gathered to commemorate Coloradans' unmistakable affection for beer. The River Run Village hosts the Keystone Bluegrass and Beer Festival. During the event, visitors may expect to sample more than 100 beers from various Colorado brewers.
Participate in the fight of the greatest breweries by voting and enjoying some down-home food and live music. Test your skills in the traditional American Cornhole game to see if you have what it takes to become the New Belgium Cornhole Champion. Listen to some of the best bluegrass musicians in the world.
Summit Foundation's Great Rubber Duck Race in Breckenridge 
Spring and fall aren't generally the most popular event seasons, but the Summit Foundation\'s Great Rubber Duck Race in Breckenridge takes place every September, usually around Labor Day Weekend. For more than three decades, this long-standing Summit County institution has aided the community.
The Great Rubber Duck Race has already raised over $130,000 for our grant and scholarship programs. The Breckenridge Annual Sidewalk Sale, the Great Divide Art Festival, and the Breckenridge Yoga Festival are now part of this weekend-long event.
The Great Rubber Duck Race, the day's primary event, included nearly 10,000 adopted ducks competing for first place as they raced down the Blue River through Breckenridge. The Great Rubber Duck Race in 2022 will be place in the Blue River Plaza in downtown Breckenridge on September 3rd from 11 a.m. to 4 p.m. Hundreds of prizes will be awarded, including a grand prize of $1,500 for the Great Rubber Duck Race.
Wine in the Pines at Keystone Resort
IN THE PINES, WINE It's only four words. Those four simple words, however, conjure up so much more for those who have attended this yearly wine event in Keystone, Colorado. Wine in the Pines has become an epicurean tradition and one of Colorado's best wine and cuisine events for people who live in and around Summit County, as well as the many front-range attendees who make the annual October drive to Keystone.
Wine in the Pines has been offering gourmet specialties from some of Keystone's best chefs, along with hundreds of excellent wines and beverages to accompany them with, for nearly four decades. Attendees of the sumptuous occasion are also treated to a bounty of chocolate delight and inventive confections that stretches across several tables. The funds, like so many of our favorite events, benefit Ability Connection Colorado.
Find out some more exciting events and festivals to enjoy your visit of Summit County in this blog.
Breckenridge's Ullr Fest
Ullr Fest is a ten-day yearly celebration of all things related to Winter season. Winter and snow, including games, parties, and ceremonial ski burnings, among other activities. Visitors and locals alike gather in Breckenridge to honor Ullr, in the hopes of a powder-filled ski season.
Locals and guests of all ages are invited to worship Ullr, the Norse god of snow, in the hopes of a powder-filled ski season. There includes a bonfire, parade, crowning of the Ullr King and Queen, and the annual breaking of the Shotski "unofficial" World Record by Breckenridge Distillery.
Frisco BBQ Challenge
One of everyone's top pick summer events is the Frisco BBQ Challenge. This festival is a must-attend annual festival. It also combines some of the tastiest BBQ in the state to Frisco's main street!
There will be bands, a 6k run with a bacon aid station, a firefighter cook-off, pig rides for the kids. Moreover, enjoy a picturesque Main Street setting surrounded by mountains and a beautiful lake, and much more. The BBQ Challenge is held every year on Father's Day in June. Pets are not permitted on the event site's streets, sidewalks, or parks.
Summit County organizes several magnificent events, with some of the top winter events attracting visitors from all over the world. Whether you're looking for gourmet food and artisan beer or want to take in some fine art, the booming festival scene is sure to have something for you. If you're looking for Summit County shuttles, Fresh Tracks Transportation is the company to call. Fresh Tracks Shuttles are regarded as some of the best Ski Shuttles in Colorado.
We're providing you with the best Colorado Shuttle services so you can experience all of these events like a genuine Coloradan. So, whether you're looking for Denver Airport Shuttles, Breckenridge Shuttles, Denver to Summit County Shuttles, or any other Summit County Shuttles, please contact us.