With the world opening up once again, everybody is looking for an experience that will help them get rid of all the toxic energy. Resort to resort ski shuttles will help tourists to enjoy their winter adventure with style. What better place to visit, other than Colorado ski resorts. Not only will it provide an escape from mundane life, but it will send you back zealous and enthusiastic.
We can say without a doubt that it will be an adventure of a lifetime and let us help you in making this trip an unforgettable experience by booking with us at fresh tracks. When it comes to Colorado, it never disappoints. Colorado features some of the world's best skiing!
Under its enormous bright sky, you will find every level and topography possibility. Every ability level can find a mountain to suit them. If you are wanting to get away from your daily stresses and have a good time, skiing and snowboarding is the way to go. Both are thrilling!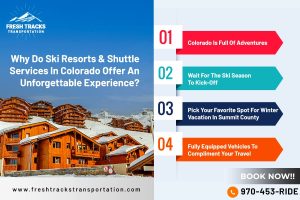 Colorado Is Full of Adventures
With over 30 ski resorts in the state, every resort has to offer exceptional services, and they await your arrival. Colorado has the best ski resorts in all of the country, with the sun shining on it for 300 days and the crisp dry air makes the snow perfect for skiing. The resorts have more than recreational activities to offer.
Enjoy a memorable day in the backcountry with one of the many excellent outdoor outfitters, or go exploring on a snowmobile, snowshoes, or Nordic skis. Fresh Tracks offer Airport and Ski Shuttles to Breckenridge, Keystone, Beaver Creek and many outstanding Don't forget to treat yourself to a spa treatment or a yoga class! While taking in the sights, sunshine, and pure mountain air, visit art galleries and boutiques.
Wait For the Ski Season to Kick-Off
The ski season usually begins in October, with Arapahoe Basin and Loveland resort competing for first place, but Wolf Creek is a quiet rival as well. Except for the first two, Hills begin closing in late March and most will close by the third weekend of April. Breckenridge, considered by many to be one of Colorado's top ski resorts, stands out from the crowd by combining unique character with unrivaled landscape and superb service.
It is the ideal mountain town, with five summits, 2,908 skiable acres, 187 routes, four terrain parks, and North America's largest chairlift. So, grab your tickets, rent your gear and take those ski lessons, and get ready to be overwhelmed by its beauty.
Skiing and snowboarding in the early season are not for the faint of heart. This season, the resorts are concentrating on lowering crowds in order to maintain a high-quality skiing and riding experience. Unrestricted season pass sales are limited in order to accomplish this. Each day of the season, lift tickets will be limited.
The outcomes are shortened lineups, better parking, and powder that lasts longer. Fresh Tracks Ski Shuttles in Colorado will take you to the best adventure sites in Summit County.
Pick Your Favorite Spot for Winter Vacation in Summit County
Get to Breckenridge, Copper Mountain, Keystone, Vail, and Beaver Creek ski resorts from Denver International Airport with Fresh Tracks Transportation. Fresh Tracks provide transportation for routes from DIA to Summit County and vice versa. Booking with us is simple, and it is also easy to go to the resorts in 30-40 minutes.
You will avoid the hassles of parking or driving in the snow when you have our professional and experienced staff. Fresh Tracks offer both private and shared airport shuttles from Denver International Airport to all of these resorts.
Fully Equipped Vehicles to Compliment Your Travel
Fresh Tracks vehicles are fully equipped with snow tires and other amenities needed for a safe, stress -free trip to famous Ski resorts in Colorado. Make a reservation in advance to ensure a seat when you arrive. The ease continues once you are here. The mountain in Vail descends into the car-free resort hamlet. If your legs are fatigued, don't worry!
Once you have arrived at the resort, we offer an on-demand shuttle service, and there's even an app for it! The majority of hotels are ski-in/ski-out or within walking distance of the lifts. Allow a professional chauffeur to transport you to Denver International Airport in comfort and elegance, with enough space for you, your family, friends, and all of your ski equipment and bags.